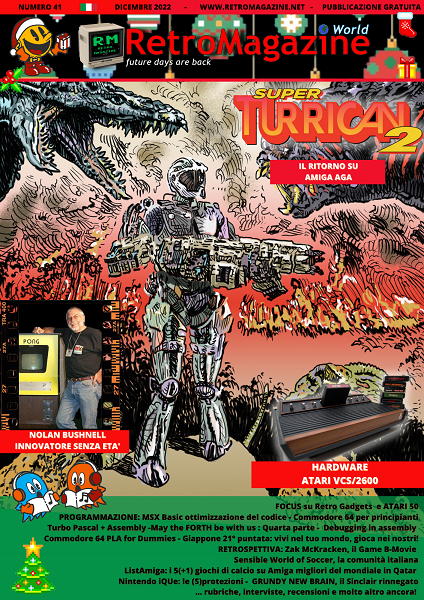 Hanno collaborato alla stesura di questo numero di RetroMagazine World (in ordine sparso):
Alberto Apostolo

Dr. Andrea Q.
Carlo N. Del Mar Pirazzini
Daniele Brahimi
Mic the Biker Novarina
Francesco Fiorentini
Leonardo Miliani
Roberto Del Mar Pirazzini
Ingrid Poggiali
Giampaolo Moraschi
Giuseppe Rinella
Marco Pistorio
Michele Ugolini
Eugenio Rapella
Salvo Cristaldi
Germán Gómez Herrera
The Orbital Crew
Simone Camminata
Francesco Bizzini
Querino Ialongo
Barbara "Morgana" Murgida
Immagine di copertina: Giuseppe Mangini
Layout di copertina: Carlo N. Del Mar Pirazzini
Editoriale di Alberto Apostolo – Verso l'infinito e oltre…
Il 2022 sta volgendo al termine ed è naturale fare qualche riflessione. Come se non bastasse la pandemia, poi è scoppiata una guerra che forse si trascinerà a lungo. Infine, la paura di rimanere al freddo e senza soldi con una inflazione strisciante che mangia i nostri sudati risparmi.
Ci si aggrappa a RetroMagazine World come a una provvidenziale scialuppa di salvataggio in un mare tempestoso di avvenimenti.
Ma non è una fuga dalla realtà. Tutti gli appassionati di RetroComputing formano una comunità mondiale collegata da Internet e crediamo che condividere idee, giochi e progetti dovrebbe favorire la fratellanza tra i popoli. Allora ci sentiamo più responsabili e meno frivoli.
Il nostro direttore Francesco Fiorentini confrontava i primi numeri della rivista, quando si recensivano i vecchi giochi anni '80 e '90, con le ultime pubblicazioni dove si parla dei videogiochi realizzati in questo periodo. Avete capito bene! Cose nuove, non solo ricordi del passato! Oltre ai videogiochi, si pubblicano anche articoli dove si descrive come effettuare qualche riparazione oppure come collegare in qualche modo un vecchio computer ai dispositivi moderni (portatili, monitor LCD, schede di memoria, etc.).
Non mancano i racconti di aneddoti storici e articoli didattici che potrebbero essere di ispirazione e miglioramento nel lavoro di tutti i giorni.
Inoltre, RetroMagazine World continua a portare avanti il progetto di costituirsi in una associazione alla quale potersi iscrivere e vuole essere sempre presente per dare voce e spazio a chiunque abbia qualcosa di interessante, come una rivista di attualità che si rispetti.
Insomma, prosegue il viaggio iniziato 5 anni fa e, come quei coraggiosi astronauti che per la prima volta videro la Terra dalla Luna, la Redazione di RetroMagazine World augura un Felice Natale, un migliore 2023, e che Dio benedica tutti voi sulla cara Terra!
Sommario:
Atari VCS/2600
iQue – le (s)protezioni
Grundy New Brain, il Sinclair rinnegato
Commodore 64 PLA for dummies
La Susi colpisce ancora (per C64 per principianti)
Ottimizzazione del codice in MSX BASIC
Turbo Pascal + Assembly: testo in dissolvenza in DOS
May the FORTH be with us – quarta parte
Atari 50: The Anniversary Celebration
Retro Gadgets… costruire un Game Boy…
Il debugging in assembly (C64, Kick Assembler)
Sensible World of Soccer: una storia che continua in Italia
Nolan Bushnell: Innovatore senza età
Giappone 21^puntata: vivi nel tuo mondo, gioca nei nostri
Zak McKracken, il Game B-movie
ListAmiga – I 5 (+ Bonus) giochi di calcio su Amiga migliori del mondiale in Qatar
RM Console
Non of us (Amiga)
Devil's Temple: son of the kung fu master (Amiga)
Advanced Busterhawk Gley Lancer (MD)
Kidou Soukon Dion (SNes)
Star Fox Ex (Snes)
New Joe & Mac:Caveman Ninja (Multi)
Turrican II AGA (Amiga)
Bosconian (Atari XL/XE)
Duck Hunt (C64)
Toki (CPC 128)
Stevedore (MSX)
Alice Sisters (MD)
Kiki Kaikai Advance (Pocky & Rocky with Becky) (GBA)
Project Blue (Nes)
Sega's Wonderboy (Amiga)
Muddy's Racers (C64)
Terrestrial (C64)
Supercooked! (SNes)
Wyvern Tales (Lynx)
Gremlins (C64)