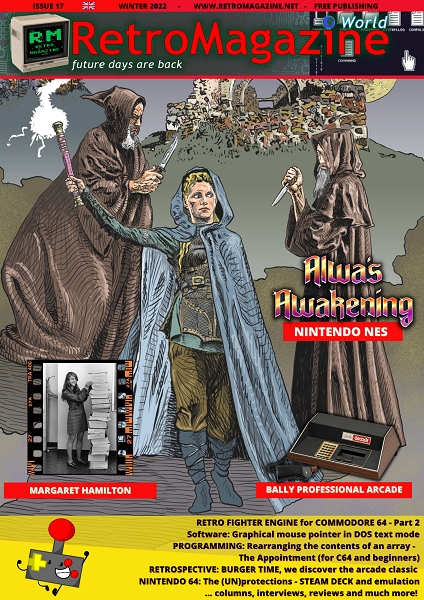 People involved in the preparation of this issue of RetroMagazine World (in no particular order):
Alberto Apostolo
Dr. Andrea Q.
Carlo N. Del Mar Pirazzini
Daniele Brahimi
Mic the Biker Novarina
Francesco Fiorentini
Leonardo Miliani
The Orbital Crew
Gianluca Alberico
Roberto Del Mar Pirazzini
Ingrid Poggiali
Gianluca Girelli
Giampaolo Moraschi
Hakim Rezki
Beppe Rinella
Franco Bressan
Marco Pistorio
Michele Ugolini
Eugenio Rapella
Cover & full-page image: Giuseppe Mangini
Cover layout: Carlo N. Del Mar Pirazzini
Editorial by David La Monaca – Striking while the soldering iron is hot
In the retrocomputing and retrogaming enthusiast community, there's often a special passion for hardware. Casual gamers of old and new titles sometimes make do with software emulators or hardware players like the Mini/Maxi/Next or Mist/Mistica/Mister series. But, let's face it, the full 'nostalgia' effect is only achieved with the original hardware that carries the inimitable look & feel of every home computer or console from the 1980s.
As witnessed in the last issue of RMW that celebrated the first 40 years of two of the machines that made personal computing history in Europe and America, time inexorably marches on. Many of these beloved computers of ours are beginning to show the signs of age, and although we can often rely on the good design that made them robust and resistant to failure, all owners of original hardware sooner or later have been confronted with screens that turn suddenly black or become a jumbled mess of incomprehensible characters. These and other unmistakable signs of electronic problems suffered by the various components distributed on the motherboards of our systems are a common sight as the years roll on.
And when a fault occurs,let's be honest!, 95% of us, users of original hardware (just as we did 40 years ago), often panicking completely, fearing that they have lost forever the possibility to play or program with the computer/console that they cherish like a child… After the first few minutes of despair, what to do but turn to the 'friend-who-knows' or, with more hope than expectation, write a post begging for help on the forum or Facebook group that specialises in that brand or model? The writer knows well he is in good company when he claims to be able to carry out only elementary repairs, well aware that he represents nothing more than a public hazard when a lit soldering iron happens to fall into his hands. Fortunately, over the years, I have met some really good electronic technicians who are endowed with the most important virtue a repairman must possess: patience. When something apparently irreparable happens to one of my many machines, I know who to turn to. Shipping costs and resolution times aside, I am usually reasonably sure that after a machine breakdown, I can get it working again within a certain time frame and within an equally certain outlay of money.
And so, let's dedicate this issue of RMW and this September editorial – a time when, after the holidays, everything gets going again and we anticipate a new year of hard work – to all those who know where to put their hands in the event of a hardware failure. Fortunately, there are still plenty of people who can help repair faults on the more or less famous machines of the 80s and 90s market. They are often capable, hard-working and helpful people and are scattered among us poor mortals in the several forums and groups dedicated to retro-computing. We know how important their know-how is and how it should be preserved by all means with documentation, manuals, video tutorials and online courses.
Time is the main enemy of hardware, and if you want to keep it alive, there is and will always be a need for these gurus, sorcerers, venerable bearers of the Supreme Knowledge of resurrecting computers, monitors, consoles and peripherals. So keep supporting your trusted repairers, make them understand how great your esteem is and how important it is that they spread their art to the new generations, if possible. We at RMW invite them to write to us and send us their articles based on their most complex or most curious repair experiences. Support your local repairman!
Summary:
Commodore 64, 40 years and counting…
Bally Professional Arcade
Nintendo 64 – the (un)protections
Emudeck – Emulation on Steam Deck
A500 MINI – My time machine in miniature
WII: The "Revolution" of Nintendo
Graphical mouse pointer in DOS text mode
The Appointment (for C64 and beginners)
RetroFighter engine for Commodore 64 – pt. 2
Random reorganisation of an array's contents
Interview with The Illiterate Code Games
Margaret Hamilton, the first software engineer
Japan 19th episode: Japan, Quo Vadis?
Burger Time
The Red Serpent Invasion (Evoke 2022)
Dottie Dreads Nought (SNes)
Eye of the Beholder (C64)
Luykia the Lost Island (Plus/4)
Alwa's Awakening (NES)
Knights & Slimes (C64)
Live a Live (SNes)
Arkegis Revolution (MD)
Impossible Mission (Plus/4)
Powers in the Basement (PC)
Ruby & Rusty Save the Crows (GBC)
Thunder Paw (MD)
Jungle Joe (C64)
180 (C64)
Malaika Prehistoric Quest (MSX)