Libro: Enciclopedia per ragazzi Rizzoli – Anno: 1986 – Trascrizione: Francesco Sblendorio e Andrea Pachetti
E finalmente anche il Commodore 128 sbarca su RetroLiPS, con un emozionante recupero frutto del lavoro di squadra di Francesco Sblendorio, Nicola Atzori ed Andrea Pachetti che ha permesso di preservare e conservare un pezzo di storia informatica italiana.
L'ultimo volume dell'Enciclopedia per ragazzi Rizzoli era dedicato ai computer e l'ultimo capitolo comprendeva diversi listati dell'allora dodicenne Gabriele Mutarelli. Tra questi spicca Go To Ziri, un gioco in BASIC 7.0 per C128, enorme da digitare, ma che tutti quelli che abbiano mai posseduto questa enciclopedia, sicuramente conoscono perché avrebbero voluto digitare e provare a giocarci.
Ecco il racconto del recupero direttamente dalla voce di Francesco: "Il post di Nicola Atzori mi ha "sbloccato il ricordo" e l'ho digitato, riscontrando diversi problemi perché (ma guarda un po') un listato così ENORME è difficile da digitare senza errori. Ho quindi saputo, sempre nel thread, che anche Andrea Pachetti un paio di anni fa aveva provato a digitarlo in parte, così mi sono fatto inviare il suo lavoro, e tramite WinMerge ho individuato e corretto gli errori".
Qui trovate il post originale che ha dato il via a questo fantastico recupero: post Go-To-Ziri
Qui invece il post in cui é intervenuto Gabriele Mutarelli, l'autore del gioco: post autore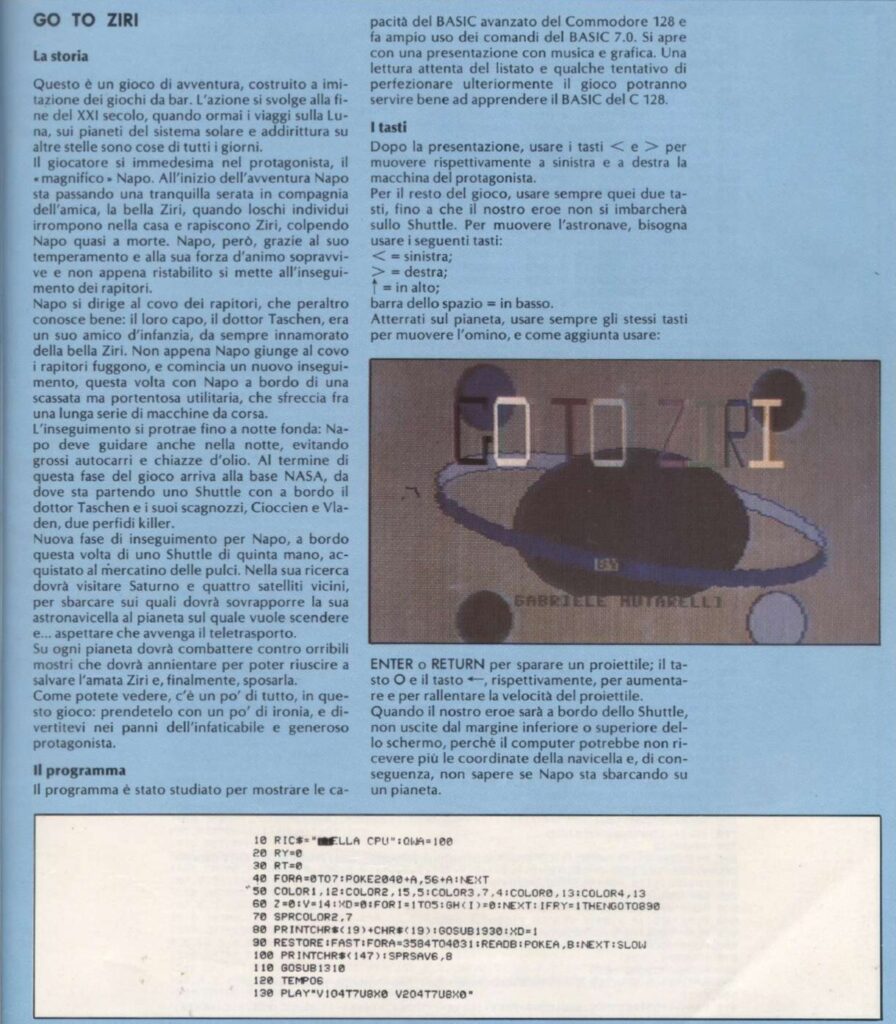 Questo listato é stato pubblicato sull'ultimo volume dell'Enciclopedia per ragazzi Rizzoli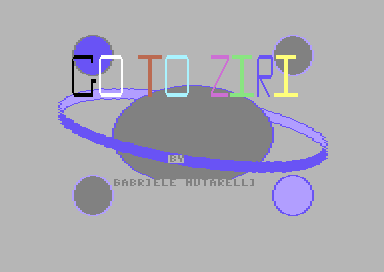 Titolo: Go To Ziri
Piattaforma: Commodore 128
Linguaggio: Basic V 7.0
Versione originale: Gabriele Mutarelli
Pubblicazione: Enciclopedia per ragazzi Rizzoli
Anno: 1986
Trascrizione: Francesco Sblendorio e Andrea Pachetti
Anno: 2022
Download: Go-To-Ziri.d64
Note: N/A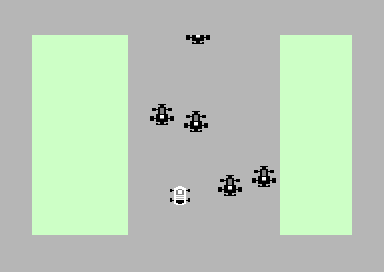 Istruzioni
Tutto quello che Napo voleva fare era trascorrere una piacevole serata in compagnia dell'amica Ziri, ma, purtroppo per lui, il malvagio dottor Taschen aveva altro per la mente. Approfittando di un momento di distrazione di Napo, alcuni loschi individui al soldo di Taschen, irrompono nella sua casa e rapiscono la bella Ziri, lasciando Napo in fin di vita. Per nostra fortuna Napo sopravvive e, ansioso di ritrovare la bella Ziri, si mette subito all'inseguimento dei rapitori.
Usare i tasti < e > per spostarsi rispettivamente a sinistra ed a destra. Nel livello dell'astronave usare ↑ (freccia sú) per andare in alto e <spazio> per andare in basso. Atterrati sul pianeta RETURN per sparare e O e ← per aumentare e rallentare la velocitá del proiettile.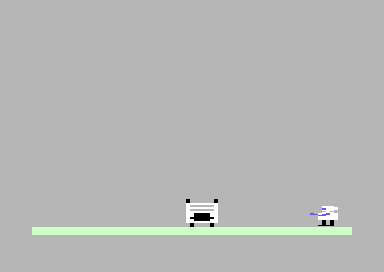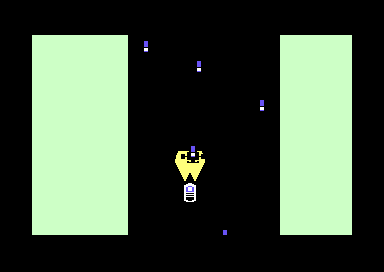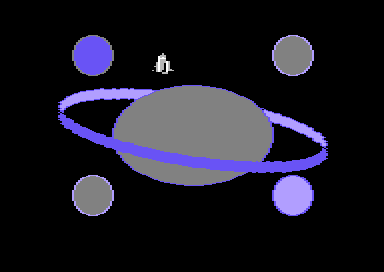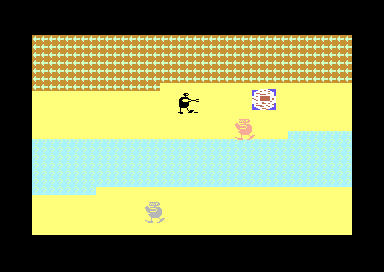 Come sempre, qui di seguito trovate il codice ottimizzato per essere copiato direttamente su CBM prg Studio.
Se invece siete ansiosi di provare il gioco su un C128 reale o su un emulatore, scaricate il file Go-To-Ziri.d64 dal nostro sito retromagazine.net.
Attenzione – Ci siamo resi conto che nel listato i caratteri '>' e '<' potrebbero venir sostituiti dai rispettivi encoding html '&gt' e '&lt'. Nel caso, sostituite questi valori nel listato prima di copiarlo sull'emulatore.
Listato: Go To Ziri – Commodore 128 – Basic V 7.0




1
2
3
4
5
6
7
8
9
10
11
12
13
14
15
16
17
18
19
20
21
22
23
24
25
26
27
28
29
30
31
32
33
34
35
36
37
38
39
40
41
42
43
44
45
46
47
48
49
50
51
52
53
54
55
56
57
58
59
60
61
62
63
64
65
66
67
68
69
70
71
72
73
74
75
76
77
78
79
80
81
82
83
84
85
86
87
88
89
90
91
92
93
94
95
96
97
98
99
100
101
102
103
104
105
106
107
108
109
110
111
112
113
114
115
116
117
118
119
120
121
122
123
124
125
126
127
128
129
130
131
132
133
134
135
136
137
138
139
140
141
142
143
144
145
146
147
148
149
150
151
152
153
154
155
156
157
158
159
160
161
162
163
164
165
166
167
168
169
170
171
172
173
174
175
176
177
178
179
180
181
182
183
184
185
186
187
188
189
190
191
192
193
194
195
196
197
198
199
200
201
202
203
204
205
206
207
208
209
210
211
212
213
214
215
216
217
218
219
220
221
222
223
224
225
226
227
228
229
230
231
232
233
234
235
236
237
238
239
240
241
242
243
244
245
246
247
248
249
250
251
252
253
254
255
256
257
258
259
260
261
262
263
264
265
266
267
268
269
270
271
272
273
274
275
276
277
278
279
280
281
282
283
284
285
286
287
288
289
290
291
292
293
294
295
296
297
298
299
300
301
302
303
304
305
306
307
308
309
310
311
312
313
314
315
316


10

 RIC$

=

CHR

$

(

20

)

+

CHR

$

(

20

)

+

"ella cpu"

:QWA

=

100




20

 RY

=

0




30

 RT

=

0




40

 FORA

=

0TO7:POKE2040

+

A,

56

+

A:

NEXT




50

 COLOR1,

12

:COLOR2,

15

,

5

:COLOR3,

7

,

4

:COLOR0,

13

:COLOR4,

13




60

 Z

=

0

:V

=

14

:XD

=

0

:FORI

=

1TO5:GH

(

I

)

=

0

:

NEXT

:IFRY

=

1THENGOTO890


70

 SPRCOLOR2,

7




80

 PRINTCHR$

(

19

)

+

CHR

$

(

19

)

:GOSUB1930:XD

=

1




90

 

RESTORE

:FAST:FORA

=

3584TO4031:READB:POKEA,B:

NEXT

:SLOW


100

 PRINTCHR$

(

147

)

:SPRSAV6,

8




110

 GOSUB1310


120

 TEMPO6


130

 

PLAY

"v1o4t7u8x0 v2o4t7u8x0"




140

 

PLAY

"v2o1ia v1o3ie v2o2qa v1o3sao4co3bem"




150

 

PLAY

"v2o2i#g v1o3sbo4do4ic v2o2saem"




160

 SPRITE1,

0

:SPRITE8,

0




170

 

PLAY

"v1o4ie v2o2sao3c v1o3i#g v2o2sbem"




180

 

PLAY

"v1o4ie v2o2sbo3dm"




190

 GRAPHIC3


200

 

PLAY

"v2o3ic v1o3sae v2o2ia v1o3sao4cm"




210

 SPRITE1,

1

:SPRITE8,

1

:SPRITE2,

0

:SPRITE7,

0




220

 

PLAY

"v2o2i#g v1o3sbe v2o2ie v1o3sbo4dm"




230

 IFRT

=

0THENGRAPHIC1


240

 

PLAY

"v1o4ic v2o2sae v1o3ia v2o2sao3cm"




250

 

PLAY

"v1o4qr v2o2sbebo3dm"




260

 SPRITE2,

1

:SPRITE7,

1

:SPRITE3,

0

:SPRITE6,

0




270

 

PLAY

"v2o3ic v1o4sre v2o2ia v1o4scem"




280

 IFRT

=

0THENGRAPHIC3


290

 

PLAY

"v2o3ic v1o3sao4c v2o2ia v1o2segm"




300

 

PLAY

"v1o3if v1o3sdo2a v1o3ia v1o2sfam"




310

 SPRITE3,

1

:SPRITE6,

1

:SPRITE4,

0

:SPRITE5,

0




320

 

PLAY

"v1o4id v2o2sdf v1o4if v2o1sao2cm"




330

 

PLAY

"v2o1ib v1o4sfd v2o2id v1o3sbo4dm"




340

 

PLAY

"v2o2ig v1o3sgb v2o2ib{space*2}v1o3sdfm"




350

 SPRITE4,

1

:SPRITE5,

1




360

 

PLAY

"v1o3ie v2o2sge v1o3ig v2o2segm"




370

 SPRITE1,

1

,

1

,

0

,

0

,

1

,RT


380

 

PLAY

"v1o4ic v2o2sce v1o4ie v2o1sgbm"




390

 SPRITE2,

1

,

2

,

0

,

0

,

1

,RT


400

 

PLAY

"v2o1ia v1o3sec v2o2ic v1o3sao4cm"




410

 IFRT

=

1THENGRAPHIC1


420

 SPRITE3,

1

,

3

,

0

,

0

,

1

,RT


430

 

PLAY

"v2o3ha v1o3saeceo3qam"




440

 SPRITE4,

1

,

4

,

0

,

0

,

1

,RT


450

 

PLAY

"v1o3if v2o3sdf v1o4id v1o3sdfm"




460

 SPRITE5,

1

,

5

,

0

,

0

,

1

,RT


470

 IFRT

=

0THENGRAPHIC3


480

 

PLAY

"v1o3ie v2o2sge v1o3ig v2o3segm"




490

 SPRITE6,

1

,

6

,

0

,

0

,

1

,RT


500

 

PLAY

"v1o3ie v2o3sce v1o4ic v2o1sao2c"




510

 SPRITE7,

1

,

7

,

0

,

0

,

1

,RT


520

 

PLAY

"v2o1if v1o4sec v2o1id v1o3sfam"




530

 IFRT

=

0THENGRAPHIC1


540

 SPRITE8,

1

,

8

,

0

,

0

,

1

,RT


550

 

PLAY

"v1o3id v2o1sgo2g v1o3ig v2o2sfgm"




560

 

PLAY

"v2o1ia v1o3sco3a v2o2i#f v1o4scem"




570

 FAST:FORA

=

1TO8:SPRITEA,

1

,

16

-

A,

0

,

0

,

0

,RT:

NEXT

:SLOW


580

 

PLAY

"v2o1ib v1o4sdo3b v2o2i3g v1o4sdfm"




590

 FAST:FORA

=

1TO8:SPRITEA,

1

,

15

-

A,

0

,

0

,

1

,RT:

NEXT

:SLOW


600

 

PLAY

"v2o2ic v1o4sec v2o2ia v1o4segm"




610

 GRAPHIC3


620

 FAST:FORA

=

1TO8:SPRITEA,

1

,

14

-

A,

0

,

0

,

0

,RT:

NEXT

:SLOW


630

 

PLAY

"v2o2id v1o4sfe v2o2i$b"




640

 FAST:FORA

=

1TO8:SPRITEA,

1

,A,

0

,

0

,

1

,RT:

NEXT

:SLOW


650

 

PLAY

"v2o2i#g v1o3sbo4c v2o2if v1o4sdem"




660

 FAST:FORA

=

1TO8:SPRITEA,

1

,

13

-

A,

0

,

0

,

0

,RT:

NEXT

:SLOW


670

 

PLAY

"v2o2id v1o4sfd v2o1ib v1o4s#gdm"




680

 FAST:FORA

=

1TO8:SPRITEA,

1

,

17

-

A,

0

,

0

,

1

,RT:

NEXT

:SLOW


690

 

PLAY

"v2o2i#g v1o4sbd v2o2ia v1o4scam"




700

 FAST:FORA

=

1TO8:SPRITEA,

1

,A,

0

,

0

,

0

,RT:

NEXT

:SLOW


710

 

PLAY

"v2o2id v1o4sfd v2o2ie v1o3sbo4dm"




720

 FAST:FORA

=

1TO8:SPRITEA,

1

,

12

-

A,

0

,

0

,

1

,RT:

NEXT

:SLOW


730

 

PLAY

"v2o2if v1o3s#gb v2o2i#d v1o4sco3am"




740

 FAST:FORA

=

1TO8:SPRITEA,

1

,

11

-

A,

0

,

0

,

0

,RT:

NEXT

:SLOW


750

 

PLAY

"v2o2ie v1o3sea v2o2ie v1o3sb#gm"




760

 

PLAY

"v2o1ha v1o3saeceo2qam"




770

 IFRT

=

1THENRETURN


780

 IFRT

=

.1THENGRAPHIC0:

END




790

 GRAPHIC0


800

 PRINTCHR$

(

147

)

:FORC

=

1TO8:SPRITEC,

0

:

NEXT

:FORA

=

3584TO3711:READB:POKEA,B:

NEXT

:FORB

=

0TO39:POKE1984

+

B,

160

:

NEXT




810

 MOVSPR1,

170

,

200

:MOVSPR2,

0

#

0

:MOVSPR2,

290

,

220

:SPRITE2,

1

,

1

,

0

,

1

,

0

,

1




820

 SPRITE1,

1

,

1

,

0

,

1

,

1

,

1

:SPRITE2,

1

,

1

,

0

,

1

,

0

,

1




830

 

PLAY

"v1o4t7u8x0 v2o4t7u8x0"




840

 

PLAY

"v2o1ia v1o3ie v2o2qa v1o3sao4co3bem"




850

 

PLAY

"v2o2i#g v1o3sbo4do4ic v2o2saem"




860

 

PLAY

"v1o4ie v2o2sao3c v1o3i#g v2o2sbem"




870

 MOVSPR2,

270

#

1




880

 FORA

=

0TO3000:

NEXT




890

 SPRITE1,

0

:SPRITE2,

0

:RESTORE1660:FORA

=

3584TO3647:READB:POKEA,B:

NEXT




900

 FAST


910

 FORA

=

1TO5:RESTORE1680:FORB

=

3584

+

(

64

*

A

-

1

)

TO3647

+

(

64

*

A

-

1

)

:READC:POKEB,C:NEXTB,A


920

 SLOW


930

 GRAPHIC1,

1




940

 FORA

=

0TO249:POKEA

+

1024

,

160

:POKEA

+

1270

,

160

:POKEA

+

1530

,

160

:POKE1780

+

A,

160

:

NEXT




950

 GRAPHIC0


960

 WINDOW12,

0

,

30

,

24

,

1




970

 CHAR1,

2

,

15

,

"premi un tasto"

,

1

:GETKEYA$:PRINTCHR$

(

147

)




980

 SPRCOLOR2,

12

:MOVSPR1,

160

,

200




990

 FORA

=

1TO6:SPRITEA,

1

,

1

,

0

,

0

,

0

,

1

:

NEXT




1000

 FORA

=

2TO5:MOVSPRA,

180

#A:

NEXT




1010

 MOVSPR2,

123

,

10

:MOVSPR3,

176

,

0

:MOVSPR4,

210

,

150

:MOVSPR5,

242

,

70

:MOVSPR6,

176

,

90

:MOVSPR6,

180

#

3

:MOVSPR4,

180

#

3

:MOVSPR5,

180

#

2




1020

 T

=

0

:FORA

=

2TO6:BX

(

A

)

=

RSPPOS

(

A,

0

)

:

NEXT




1030

 GOSUB1440


1040

 IFBUMP

(

1

)

=

5ORBUMP

(

1

)

=

3ORPEEK

(

53278

)

=

17ORBUMP

(

1

)

=

45ORBUMP

(

1

)

=

33ORBUMP

(

1

)

=

9THENV

=

V

-

1

:

PLAY

"cc"




1050

 IFV

<=

0THEN2930


1060

 A

=

INT

(

RND

(

0

)

*

4

)

+

2

:IFA

=

4THENA

=

5




1070

 MOVSPRA,BX

(

A

)

+

INT

(

RND

(

0

)

*

20

)

,RSPPOS

(

A,

1

)




1080

 T

=

T

+

1

:IFT

=>

250THEN1100


1090

 GOTO1030


1100

 FAST:FORA

=

1TO8:SPRITEA,

0

:

NEXT

:SLOW


1110

 SPRCOLOR2,

7




1120

 

PLAY

"badde"

:IFZ

=

1THEN1140


1130

 FORC

=

0TO1:RESTORE1700:FORA

=

3968

+

64

*

C

-

1TO3968

+

64

*

(

C

+

1

)

-

1

:READB:POKEA,B:NEXTA,C


1140

 SPRITE1,

1

:SPRITE8,

1

,

8

,

0

,

0

,

1

,

0

:SPRITE7,

1

,

8

,

0

,

0

,

1

,

0

:MOVSPR8,

176

,

157

:MOVSPR7,

166

,

157

:MOVSPR1,

170

,

197




1150

 POKE53280,

0

:POKE53281,

0

:IFZ

=

1THENSPRITE2,

1

:SPRITE3,

1

:SPRITE4,

1

,

1

:SPRITE5,

1

,

1

:SPRITE6,

1

,

1

:GOTO1170


1160

 FORA

=

1TO6:SPRITEA,

1

,

1

,

0

,

0

,

0

,

1

:

NEXT




1170

 MOVSPR2,

127

,

5

:MOVSPR3,

181

,

0

:MOVSPR4,

205

,

150

:MOVSPR5,

232

,

0

:MOVSPR6,

173

,

89

:MOVSPR6,

180

#

3

:MOVSPR4,

180

#

4

:MOVSPR5,

180

#

4




1180

 FORA

=

2TO5:MOVSPRA,

180

#A:

NEXT




1190

 GOSUB1440:MOVSPR8,RSPPOS

(

1

,

0

)

+

6

,

154

:MOVSPR7,RSPPOS

(

1

,

0

)

-

4

,

154




1200

 IFBUMP

(

1

)

=

225ORBUMP

(

1

)

=

253ORBUMP

(

1

)

=

237ORBUMP

(

1

)

=

195ORBUMP

(

1

)

=

208ORBUMP

(

1

)

=

201THENV

=

V

-

1

:

PLAY

"cc"




1210

 IFV

<=

0THEN2930


1220

 A

=

INT

(

RND

(

0

)

*

4

)

+

2

:IFA

=

4THENA

=

5




1230

 MOVSPRA,BX

(

A

)

+

INT

(

RND

(

0

)

*

4

)

,RSPPOS

(

A,

1

)




1240

 T

=

T

+

1

:IFT

>=

400THENZ

=

Z

+

1

:IFZ

<

2THEN1850


1250

 IFZ

=

2THEN1910


1260

 GOTO1190


1270

 IFT

=>

250THEN1120


1280

 

PLAY

"v3o1ccc"




1290

 CHAR1,

4

,

12

,

"fine gioco"

,

1

:FORA

=

1TO8:SPRITEA,

0

:

NEXT




1300

 CHAR1,

2

,

15

,

"premi un tasto"

,

1

:GETKEYA$:RESTORE1620:GOTO800


1310

 FORA

=

1TO8:SPRITEA,

1

,A,

0

,

0

,

0

,

0

:MOVSPRA,

INT

(

RND

(

0

)

*

320

)

,

INT

(

RND

(

0

)

*

200

)

:MOVSPRA,

INT

(

RND

(

0

)

*

360

)

#A

+

6

:

NEXT




1320

 FORT

=

0TO999:

NEXT

:FORA

=

1TO8:MOVSPRA,

0

#

0

:

NEXT




1330

 MOVSPR1,

64

,

70




1340

 MOVSPR2,

91

,

70




1350

 MOVSPR3,

130

,

70




1360

 MOVSPR4,

157

,

70




1370

 MOVSPR5,

201

,

70




1380

 MOVSPR6,

222

,

70




1390

 MOVSPR7,

249

,

70




1400

 MOVSPR8,

266

,

70




1410

 CHAR1,

17

,

15

,

"by"




1420

 CHAR1,

10

,

18

,

"gabriele mutarelli"




1430

 

RETURN




1440

 GETA$


1450

 IFA$

=

","

THENMOVSPR1,RSPPOS

(

1

,

0

)

-

5

,RSPPOS

(

1

,

1

)

:IFRSPPOS

(

1

,

0

)

<

120THENMOVSPR1,

120

,RSPPOS

(

1

,

1

)

:

PLAY

"ia"




1460

 IFA$

=

"."

THENMOVSPR1,RSPPOS

(

1

,

0

)

+

5

,RSPPOS

(

1

,

1

)

:IFRSPPOS

(

1

,

0

)

>

248THENMOVSPR1,

248

,RSPPOS

(

1

,

1

)

:

PLAY

"ia"




1470

 

RETURN




1480

 DATA63,

255

,

248

,

127

,

255

,

248

,

128

,

0

,

24

,

192

,

0

,

24

,

192

,

0

,

0

,

192

,

0

,

0

,

192




1490

 DATA0,

0

,

192

,

0

,

0

,

192

,

0

,

0

,

192

,

0

,

0

,

192

,

0

,

0

,

192

,

0

,

0

,

192

,

0

,

31

,

192

,

0

,

31

,

192

,

0

,

24

,

192

,

0

,

24

,

192

,

0

,

24

,

192

,

0

,

24

,

192

,

0

,

24

,

127

,

255

,

248

,

63

,

255

,

248

,

0




1500

 DATA63,

255

,

252

,

127

,

255

,

254

,

192

,

0

,

3

,

192

,

0

,

3

,

192

,

0

,

3

,

192

,

0

,

3

,

192

,

0

,

3

,

192

,

0

,

3

,

192

,

0

,

3

,

192

,

0

,

3

,

192

,

0

,

3

,

192

,

0

,

3

,

192

,

0

,

3

,

192

,

0

,

3

,

192

,

0

,

3

,

192

,

0

,

3

,

192

,

0

,

3

,

192

,

0




1510

 DATA3,

192

,

0

,

3

,

127

,

255

,

254

,

63

,

255

,

252

,

255




1520

 DATA255,

255

,

255

,

255

,

255

,

255

,

0

,

60

,

0

,

0

,

60

,

0

,

0

,

60

,

0

,

0

,

60

,

0

,

0

,

60

,

0

,

0

,

60

,

0

,

0

,

60

,

0

,

0

,

60

,

0

,

0

,

60

,

0

,

0

,

60

,

0

,

0

,

60

,

0

,

0

,

60

,

0

,

0

,

60

,

0

,

0

,

60

,

0

,

0

,

60

,

0

,

0

,

60

,

0

,

0

,

60

,

0

,

0

,

60

,

0




1530

 DATA0,

60

,

0

,

0




1540

 DATA63,

255

,

252

,

127

,

255

,

254

,

192

,

0

,

3

,

192

,

0

,

3

,

192

,

0

,

3

,

192

,

0

,

3

,

192

,

0

,

3

,

192

,

0

,

3

,

192

,

0

,

3

,

192

,

0

,

3

,

192

,

0

,

3

,

192

,

0

,

3

,

192

,

0

,

3

,

192

,

0

,

3

,

192

,

0

,

3

,

192

,

0

,

3

,

192

,

0

,

3

,

192

,

0




1550

 DATA3,

192

,

0

,

3

,

127

,

255

,

254

,

63

,

255

,

252




1560

 DATA255,

63

,

255

,

240

,

63

,

255

,

240

,

0

,

0

,

48

,

0

,

0

,

96

,

0

,

0

,

192

,

0

,

1

,

128

,

0

,

3

,

0

,

0

,

6

,

0

,

0

,

12

,

0

,

0

,

24

,

0

,

0

,

48




1570

 DATA0,

0

,

96

,

0

,

0

,

192

,

0

,

1

,

128

,

0

,

3

,

0

,

0

,

6

,

0

,

0

,

12

,

0

,

0

,

24

,

0

,

0

,

48

,

0

,

0

,

63

,

255

,

224

,

63

,

255

,

224

,

0




1580

 DATA63,

255

,

252

,

63

,

255

,

252

,

0

,

60

,

0

,

0

,

60

,

0

,

0

,

60

,

0

,

0

,

60

,

0

,

0

,

60

,

0

,

0

,

60

,

0

,

0

,

60

,

0

,

0

,

60

,

0

,

0

,

60

,

0

,

0

,

60

,

0

,

0

,

60

,

0

,

0

,

60

,

0

,

0

,

60

,

0

,

0

,

60

,

0

,

0

,

60

,

0

,

0

,

60

,

0

,

0

,

60

,

0

,

255

,

255




1590

 DATA255,

255

,

255

,

255

,

0




1600

 DATA63,

254

,

0

,

127

,

255

,

0

,

192

,

3

,

0

,

192

,

3

,

0

,

192

,

3

,

0

,

192

,

3

,

0

,

192

,

3

,

0




1610

 DATA192,

3

,

0

,

192

,

3

,

0

,

192

,

3

,

0

,

255

,

254

,

0

,

255

,

252

,

0

,

216

,

0

,

0

,

204

,

0

,

0

,

198

,

0

,

0

,

195

,

0

,

0

,

193

,

128

,

0

,

192

,

192

,

0

,

192

,

96

,

0

,

192

,

48

,

0

,

192

,

24

,

0

,

0




1620

 DATA0,

0

,

0

,

0

,

0

,

0

,

0

,

0

,

0

,

0

,

0

,

0

,

0

,

0

,

0

,

0

,

0

,

0

,

0

,

0

,

0

,

8

,

0

,

32

,

8

,

0

,

32

,

5

,

85

,

80

,

4

,

0

,

16

,

5

,

85

,

80

,

4

,

0

,

16

,

5

,

85

,

80

,

5

,

170

,

80

,

5

,

170

,

80

,

6

,

170

,

144

,

5

,

170

,

80

,

5

,

85

,

80

,

2

,

0

,

128

,

2

,

0




1630

 DATA128,

0




1640

 DATA0,

0

,

0

,

0

,

5

,

64

,

0

,

5

,

80

,

0

,

13

,

80

,

0

,

13

,

80

,

0

,

5

,

64

,

0

,

1

,

0

,

0

,

5

,

64




1650

 DATA3,

23

,

80

,

3

,

223

,

80

,

0

,

61

,

80

,

0

,

21

,

80

,

0

,

21

,

80

,

0

,

21

,

80

,

0

,

21

,

80

,

0

,

8

,

128

,

0

,

8

,

128

,

0

,

8

,

128

,

0

,

8

,

128

,

0

,

8

,

128

,

0

,

42

,

128

,

0




1660

 DATA0,

0

,

0

,

0

,

20

,

0

,

0

,

85

,

0

,

1

,

85

,

64

,

33

,

125




1670

 DATA72,

41

,

215

,

104

,

33

,

215

,

72

,

1

,

215

,

64

,

1

,

215

,

64

,

1

,

255

,

64

,

1

,

85

,

64

,

1

,

0

,

64

,

1

,

85

,

64

,

33

,

0

,

72

,

33

,

85

,

72

,

41

,

170

,

104

,

33

,

170

,

72

,

1

,

170

,

64

,

1

,

105

,

64

,

0

,

85

,

0

,

0

,

0

,

0

,

0

,

0




1680

 DATA0,

0

,

170

,

0

,

0

,

40

,

0

,

0

,

40

,

0

,

0

,

170

,

0

,

40

,

190

,

40

,

42

,

190

,

168

,

40

,

190

,

40

,

0

,

190

,

0

,

0

,

190

,

0

,

0

,

190

,

0

,

2

,

170

,

128

,

2

,

150

,

128

,

162

,

150

,

138

,

162

,

150

,

138

,

170

,

190

,

170

,

162

,

170




1690

 DATA138,

162

,

170

,

138

,

2

,

170

,

128

,

0

,

40

,

0

,

2

,

40

,

128

,

2

,

170

,

128




1700

 DATA0,

0

,

0

,

0

,

0

,

0

,

0

,

0

,

0

,

0

,

0

,

0

,

0

,

0

,

0

,

0

,

0

,

0

,

0

,

15

,

255

,

192

,

31

,

255

,

224

,

63

,

255

,

240

,

63

,

255

,

240

,

127

,

255




1710

 DATA248,

127

,

255

,

248

,

63

,

255

,

240

,

31

,

255

,

224

,

15

,

255

,

192

,

7

,

255

,

128

,

3

,

255

,

0

,

1

,

254

,

0

,

0

,

252

,

0

,

0

,

120

,

0

,

0

,

48

,

0




1720

 DATA252,

127

,

255

,

254

,

255

,

207

,

255

,

255

,

207

,

255

,

255

,

255

,

255

,

131

,

206

,

127

,

187

,

206

,

127

,

187

,

206

,

127

,

187

,

206

,

127

,

131

,

206

,

15

,

255

,

255

,

255

,

255

,

255

,

255

,

255

,

255




1730

 DATA255,

255

,

255

,

255

,

255

,

255

,

255

,

255

,

255

,

255

,

127

,

255

,

252

,

63

,

255

,

248

,

31

,

255

,

240

,

0

,

0

,

0

,

0

,

0

,

0

,

0

,

0

,

0




1740

 DATA0,

1

,

1

,

0

,

1

,

33

,

0

,

10

,

170

,

128

,

10

,

254

,

128

,

11

,

255

,

128

,

10

,

170

,

128

,

10

,

170

,

128

,

0

,

168

,

0

,

0

,

168

,

0

,

42

,

170




1750

 DATA160,

42

,

170

,

160

,

42

,

170

,

160

,

42

,

170

,

160

,

42

,

170

,

160

,

42

,

170

,

160

,

42

,

170

,

160

,

42

,

170

,

160

,

42

,

170

,

160

,

42

,

170

,

160

,

42

,

170

,

160

,

42

,

170

,

160

,

0

,

0

,

0




1760

 DATA0,

0

,

0

,

0

,

0

,

0

,

0

,

0

,

0

,

0

,

0

,

0

,

0

,

0

,

0

,

0

,

0

,

0

,

0

,

0

,

0

,

0

,

0

,

0

,

0

,

0

,

0

,

0

,

0

,

0

,

0

,

4

,

0

,

0

,

29

,

0

,

0

,

127

,

64

,

5

,

255

,

208

,

21

,

255

,

212

,

5

,

127

,

85

,

21

,

93

,

84

,

5

,

85

,

80

,

6

,

85

,

144

,

2

,

0

,

128

,

2

,

0




1770

 DATA128,

0

,

16




1780

 DATA254,

0

,

3

,

255

,

131

,

103

,

255

,

192




1790

 DATA15,

255

,

231

,

159

,

255

,

240

,

63

,

255

,

248

,

62

,

43

,

248

,

126

,

171

,

252

,

126

,

171

,

252

,

126

,

171

,

252

,

126

,

40

,

252

,

127




1800

 DATA255,

252

,

127

,

255

,

252

,

127

,

255

,

252




1810

 DATA63,

255

,

248

,

63

,

255

,

248

,

159

,

255

,

240

,

15

,

255

,

224

,

71

,

255

,

204

,

3

,

255

,

128

,

80

,

254

,

24

,

0

,

16

,

254

,

0

,

3

,

255




1820

 DATA131,

103

,

255

,

192

,

15

,

255

,

231

,

159

,

131

,

240

,

63

,

187

,

248

,

63

,

131

,

248

,

127

,

255

,

252

,

127

,

131

,

252

,

127

,

255

,

252

,

127

,

131

,

252

,

127

,

191

,

252

,

127

,

191

,

252

,

127

,

255

,

255

,

63

,

255




1830

 DATA248,

63




1840

 DATA255,

248

,

159

,

255

,

240

,

15

,

255

,

224

,

71

,

255

,

204

,

3

,

255

,

128

,

80

,

254

,

16




1850

 FORA

=

2TO6:SPRITEA,

0

:

NEXT




1860

 FORA

=

1TO2:RESTORE1720:FORB

=

3584

+

(

64

*

A

-

1

)

TO3647

+

(

64

*

A

-

1

)

:READC:POKEB,C:NEXTB,A


1870

 FORA

=

3TO5:RESTORE1740:FORB

=

3584

+

(

64

*

A

-

1

)

TO3647

+

(

64

*

A

-

1

)

:READC:POKEB,C:NEXTB,A


1880

 PRINTCHR$

(

147

)

:POKE53280,

12

:POKE53281,

12




1890

 SPRITE2,

1

,

1

,

0

,

0

,

0

,

0

:SPRITE3,

1

,

1

,

0

,

0

,

0

,

0

:SPRITE4,

1

,

7

,

0

,

0

,

1

,

1

:SPRITE5,

1

,

8

,

0

,

0

,

1

,

1

:SPRITE6,

1

,

12

,

0

,

0

,

1

,

1

:SPRITE7,

0

:SPRITE8,

0




1900

 T

=

0

:GOTO1020


1910

 XD

=

1




1920

 FORG

=

1TO8:SPRITEG,

1

,

17

-

G,

0

,

0

,

0

,

0

:

NEXT

:T

=

T

*

2




1930

 DATA0,

4

,

0

,

0

,

38

,

0

,

0

,

21

,

128

,

0

,

213

,

128

,

0

,

221

,

128

,

0

,

255

,

128

,

0

,

213

,

128

,

0

,

213

,

128

,

2

,

213

,

208

,

1

,

213

,

208

,

1

,

214

,

208

,

1

,

214

,

208

,

1

,

214

,

208

,

5

,

214

,

216

,

9

,

214

,

216

,

9

,

214

,

216




1940

 DATA9,

214

,

212

,

25

,

218

,

213

,

41

,

218

,

234

,

0

,

165

,

64

,

0

,

165

,

64

,

3




1950

 RESTORE1930:POKE53265,

27

:FORI

=

1TO8:SPRITEI,

0

:

NEXT




1960

 FAST:FORA

=

3584TO3584

+

63

:READB:POKEA,B:

NEXT

:GRAPHIC3,

1




1970

 FORA

=

2TO8:MOVSPRA,

0

#

0

:

NEXT




1980

 CIRCLE1,

80

,

100

,

40

,

50




1990

 CIRCLE3,

80

,

100

,

70

,

30

,

27

,

327

,

20




2000

 CIRCLE3,

80

,

90

,

70

,

30

,

23

,

335

,

20




2010

 PAINT3,

80

,

130




2020

 PAINT1,

80

,

100

,

1

:PAINT1,

80

,

135

,

1




2030

 CIRCLE3,

80

,

100

,

40

,

50




2040

 PAINT2,

40

,

60

,

1




2050

 PAINT2,

120

,

80

,

1




2060

 CIRCLE1,

30

,

20

,

10

:PAINT3,

30

,

20

,

1




2070

 CIRCLE2,

30

,

160

,

10

:PAINT1,

30

,

160

,

1




2080

 CIRCLE3,

130

,

160

,

10

:PAINT2,

130

,

160

,

1




2090

 CIRCLE2,

130

,

20

,

10

:PAINT1,

130

,

20

,

1




2100

 SLOW


2110

 KJ

=

1

:GH

=

0

:FORA

=

0TO5:GRAPHIC1:FORT

=

0TO349:

NEXT

:GRAPHIC3:FORT

=

0TO349:

NEXT

:

NEXT

:IFXD

=

0THENRETURN


2120

 MOVSPR1,

160

,

200

:T

=

T

+

J


2130

 SPRCOLOR13,

2

:GRAPHIC3:POKE53278,

0

:POKE53265,

27

:SPRITE1,

1

,

1

,

0

,

0

,

0

,

1




2140

 GETA$


2150

 IFA$

=

""

THEN2140


2160

 T

=

T

+

1




2170

 IFA$

=

","

THENMOVSPR1,RSPPOS

(

1

,

0

)

-

6

,RSPPOS

(

1

,

1

)




2180

 IFA$

=

"."

THENMOVSPR1,RSPPOS

(

1

,

0

)

+

6

,RSPPOS

(

1

,

1

)




2190

 IFA$

=

"^"

THENMOVSPR1,RSPPOS

(

1

,

0

)

,RSPPOS

(

1

,

1

)

-

6




2200

 IFA$

=

" "

THENMOVSPR1,RSPPOS

(

1

,

0

)

,RSPPOS

(

1

,

1

)

+

6




2210

 IFGH

(

1

)

=

0THENIFRSPPOS

(

1

,

0

)

=

70ANDRSPPOS

(

1

,

1

)

=

62THENGH

(

1

)

=

1

:GOTO2310


2220

 IFGH

(

2

)

=

0THENIFRSPPOS

(

1

,

0

)

=

274ANDRSPPOS

(

1

,

1

)

=

62THENGH

(

2

)

=

1

:GOTO2310


2230

 IFGH

(

3

)

=

0THENIFRSPPOS

(

1

,

0

)

=

274ANDRSPPOS

(

1

,

1

)

=

200THENGH

(

3

)

=

1

:GOTO2310


2240

 IFGH

(

4

)

=

0THENIFRSPPOS

(

1

,

0

)

=

70ANDRSPPOS

(

1

,

1

)

=

200THENGH

(

4

)

=

1

:GOTO2310


2250

 IFGH

(

5

)

=

0THENIFRSPPOS

(

1

,

0

)

=

172ANDRSPPOS

(

1

,

1

)

=

140THENGH

(

5

)

=

1

:GOTO2310


2260

 IFGH

(

1

)

=

1ANDGH

(

2

)

=

1ANDGH

(

3

)

=

1ANDGH

(

4

)

=

1ANDGH

(

5

)

=

1THEN2710


2270

 GOTO2140


2280

 DATA15,

252

,

0

,

5

,

102

,

0

,

10

,

174

,

0

,

15

,

252

,

0

,

96

,

96

,

0

,

247

,

254

,

0

,

248

,

31




2290

 DATA0,

127

,

239

,

128

,

127

,

239

,

128

,

56

,

31

,

128

,

31

,

255

,

128

,

7

,

255

,

128

,

31

,

255

,

128

,

15

,

255

,

0

,

7

,

254

,

0

,

3

,

252

,

0

,

2

,

2

,

112

,

2

,

1

,

224

,

194

,

1

,

192

,

63




2300

 DATA3,

128

,

31

,

14

,

0

,

15




2310

 W

=

1

:E

=

1

:POKE53279,

0




2320

 RESTORE2280:FAST:FORA

=

3648TO4032:READB:POKEA,B:

NEXT




2330

 FORA

=

0TO255:POKE1024

+

A,

95

:POKE1280

+

A,

160

:POKE1536

+

A,

255

:POKE1792

+

A,

160

:

NEXT

:SLOW:POKE53265,

91




2340

 DATA1,

224

,

0

,

3

,

144

,

0

,

1

,

224

,

0

,

0

,

128

,

0

,

15

,

224

,

0

,

31

,

240

,

0

,

60

,

28

,

28

,

56

,

3

,

224

,

60

,

28

,

28

,

63

,

240

,

0

,

63




2350

 DATA240,

0

,

63

,

240

,

0

,

63

,

240

,

0

,

63

,

224

,

0

,

31

,

192

,

0

,

16

,

32

,

0

,

16

,

32

,

0

,

16

,

23

,

128

,

16

,

15

,

0

,

124

,

30

,

0

 

120

,

28

,

0

,

0

,

0




2360

 DATA0,

124

,

0

,

0

,

206

,

0

,

0

,

124

,

0

,

0

,

16

,

0

,

0

,

126

,

0

,

1

,

255

,

128

,

3

,

255

,

192

,

3

,

255

,

192

,

51

,

129

,

192

,

12

,

0

,

192

,

51

,

129

,

192

,

3

,

255

,

192

,

3

,

255

,

192

,

3

,

255

,

128

,

2

,

255

,

128

,

2

,

0

,

128

,

2




2370

 DATA0,

128

,

2

,

0

,

240

,

26

,

0

,

240

,

23

,

5

,

224

,

15

,

3

,

192

,

0




2380

 DATA0,

48

,

0

,

0

,

72

,

0

,

0

,

204

,

0

,

0

,

120

,

0

,

0

,

48

,

0

,

3

,

255

,

0

,

23

,

255

,

160

,

62

,

123

,

240

,

54

,

187

,

176

,

54

,

219

,

176

,

54

,

219

,

176

,

54

,

235

,

176

,

54

,

243

,

176

,

51

,

255

,

48

,

81

,

134

,

40

,

81

,

134

,

40




2390

 DATA1,

134

,

0

,

1

,

134

,

0

,

1

,

134

,

0

,

1

,

134

,

0

,

7

,

207

,

128

,

51




2400

 DATA80,

48

,

40

,

80

,

120

,

40

,

48

,

252

,

48

,

48

,

120

,

48

,

48

,

48

,

48

,

51

,

255

,

48

,

55

,

255

,

176

,

63

,

255

,

240

,

23

,

255

,

160

,

7

,

255

,

128

,

7

,

255

,

128

,

7

,

255

,

128

,

7

,

255

,

128

,

3

,

255

,

0

,

1

,

134

,

0

,

1




2410

 DATA134,

0

,

1

,

134

,

0

,

1

,

134

,

0

,

1

,

134

,

0

,

1

,

134

,

0

,

7

,

223

,

128

,

0

,

0




2420

 DATA85,

170

,

169

,

93

,

106

,

165

,

213

,

218

,

149

,

85

,

86

,

159

,

85

,

214

,

149

,

253

,

86

,

149

,

85

,

86

,

93

,

255

,

213

,

85

,

255

,

213




2430

 DATA213,

255

,

221

,

117

,

255

,

221

,

93

,

255

,

213

,

85

,

85

,

117

,

85

,

117

,

85

,

93

,

125

,

214

,

149

,

85

,

94

,

159

,

215

,

86

,

149

,

245

,

214

,

165

,

85

,

90

,

169

,

125

,

106

,

170

,

87

,

170

,

0

,

0

,

255




2440

 FORA

=

2TO8:SPRITEA,

1

:

NEXT

:SPRITE1,

0




2450

 POKE2043,

57

:POKE2044,

57

:POKE2045,

57

:POKE2046,

62

:POKE2047,

57

:POKE2042,

58

:POKE2041,

57

:SPRITE3,

1

,

1

:MOVSPR3,

160

,

100




2460

 GRAPHIC0


2470

 FORA

=

2TO8:MOVSPRA,

INT

(

RND

(

0

)

*

320

)

#

5

:

NEXT

:MOVSPR3,

0

#

0

:SPRITE7,

0




2480

 GETKEYA$


2490

 IFA$

=

","

THENMOVSPR3,RSPPOS

(

3

,

0

)

-

6

,RSPPOS

(

3

,

1

)

:POKE2042,

59

:POKE53282,

INT

(

RND

(

0

)

*

255

)




2500

 IFA$

=

"."

THENMOVSPR3,RSPPOS

(

3

,

0

)

+

6

,RSPPOS

(

3

,

1

)

:POKE2042,

58

:POKE53283,

INT

(

RND

(

0

)

*

255

)




2510

 IFA$

=

"0"

THENW

=

W

+

1




2520

 IFA$

=

"{arrow left}"

THENW

=

W

-

1




2530

 IFA$

=

"^"

THENMOVSPR3,RSPPOS

(

3

,

0

)

,RSPPOS

(

3

,

1

)

-

6

:POKE2042,

61

:POKE53284,

INT

(

RND

(

0

)

*

255

)




2540

 IFA$

=

CHR

$

(

13

)

THENGOSUB2590


2550

 IFA$

=

" "

THENMOVSPR3,RSPPOS

(

3

,

0

)

,RSPPOS

(

3

,

1

)

+

6

:POKE2042,

60

:POKE53282

+

INT

(

RND

(

0

)

*

3

)

,

INT

(

RND

(

0

)

*

255

)




2560

 IFBUMP

(

1

)

=

6ORBUMP

(

1

)

=

12ORBUMP

(

1

)

=

20ORBUMP

(

1

)

=

36THENV

=

V

-

1

:

PLAY

"cc"

:IFV

=<

0THEN2930


2570

 IFRSPRITE

(

7

,

0

)

=

1THENIFBUMP

(

1

)

=

66ORBUMP

(

1

)

=

68ORBUMP

(

1

)

=

80ORBUMP

(

1

)

=

96THENE

=

E

+

1

:SPRITEE,

0

:SPRITE3,

1

:

PLAY

"fgf"

:IFE

=

6THEN2690


2580

 GOTO2480


2590

 SPRITE7,

1

,

7

,

0

,

0

,

0

,

1

:SPRCOLOR2,

3

:MOVSPR7,RSPPOS

(

3

,

0

)

,RSPPOS

(

3

,

1

)




2600

 IFPEEK

(

2042

)

=

59THENMOVSPR7,

270

#W


2610

 IFPEEK

(

2042

)

=

61THENMOVSPR7,

0

#W


2620

 IFPEEK

(

2042

)

=

58THENMOVSPR7,

90

#W


2630

 IFPEEK

(

2042

)

=

60THENMOVSPR7,

180

#W


2640

 IFW

<=

0THENSPRITE7,

0




2650

 

RETURN




2660

 FORA

=

0TO255:POKE53270,A:

NEXT




2670

 POKE53270,

200

:GOTO2930


2680

 

END




2690

 FORA

=

2TO8:SPRITEA,

0

:MOVSPRA,

0

#

0

:

NEXT




2700

 GOTO2130


2710

 FAST:GRAPHIC3,

1

:COLOR1,

3

,

0




2720

 CIRCLE1,

60

,

70

,

20

,

30

,

270

,

90




2730

 CIRCLE1,

100

,

70

,

20

,

30

,

270

,

90




2740

 CIRCLE1,

60

,

70

,

20

,

90

,

180

,

270




2750

 CIRCLE1,

100

,

70

,

20

,

90

,

90

,

180




2760

 CIRCLE1,

80

,

150

,

30

,

20

,

90

,

270




2770

 PAINT1,

80

,

100




2780

 RESTORE3110:FORI

=

4032TO4095:READB:POKEI,B:

NEXT




2790

 RESTORE1640:FORI

=

3584TO3648:READB:POKEI,B:

NEXT




2800

 MOVSPR1,

210

,

130

:SPRITE1,

1

,

1

,

0

,

1

,

1

,

1




2810

 MOVSPR8,

130

,

130

:SPRITE8,

1

,

11

,

0

,

1

,

1

,

1




2820

 SPRCOLOR2,

8




2830

 SPRSAV1,

2

:SPRSAV1,

3

:SPRSAV1,

4

:SPRSAV8,

7

:SPRSAV8,

6

:SPRSAV8,

5




2840

 FORA

=

2TO4:SPRITEA,

1

,

1

,

0

,

0

,

0

,

1

:SPRITEA

+

3

,

1

,

11

,

0

,

0

,

0

,

1

:

NEXT




2850

 MOVSPR2,

260

,

150




2860

 MOVSPR3,

280

,

150




2870

 MOVSPR4,

300

,

150




2880

 MOVSPR5,

40

,

150




2890

 MOVSPR6,

60

,

150




2900

 MOVSPR7,

80

,

150




2910

 SLOW:RT

=

1

:GOSUB120


2920

 WRE$

=

"la principessa ziri "

:GOTO2940


2930

 WRE$

=

" termine "




2940

 WINDOW0,

0

,

39

,

24

,

1

:GRAPHIC0:PRINTCHR$

(

147

)

"complimenti!?!?!?!?!?!?!?!?!?!"




2950

 FORA

=

1TO8:SPRITEA,

0

:

NEXT




2960

 

PRINT

"anche se io avrei saputo far di meglio.."




2970

 

PRINT

"sei arrivato al"

WRE$

"con "

V

" vite"




2980

 IFV

>

5THENPRINT

"tu sei un drogato dei video games?!?!?"




2990

 

PRINT

"hai resistito ed hai guadagnato $"

T

"$ dollari"




3000

 

PRINT

"il massimo guadagno in dollari era stato di "

RIC$

" con $"

QWA

"$ dollari"




3010

 IFT

>

QWATHENQWA

=

T:

INPUT

"il tuo nome grazie"

;RIC$


3020

 

PRINT

"vuoi giocare ancora?"




3030

 GETKEYU$


3040

 IFU$

=

"n"

THENPRINT

"come!!non vuoi giocare?!?!cosa!!!questo gioco ti fa schifo!?!bello tu tze.be' almeno la presentazione ti faro'risentire"

:RT

=

.1:GOTO3060


3050

 IFU$

=

"s"

ORU$

=

"y"

THEN3070


3060

 SLEEP9:RY

=

0

:GOSUB40:

END




3070

 

PRINT

"vuoi rigiocare con o senza presentazione???????????????????????????????????????"




3080

 GETKEYRY$


3090

 IFRY$

=

"c"

THENPRINT

"bravo"

:SLEEP4:GOTO20


3100

 IFRY$

=

"s"

THENPRINT

"l'ho sempre detto io che hai dei gusti{space*2}pessimi,comunque...eccoti accontentato..."

:SLEEP4:RY

=

1

:GOTO30


3110

 DATA0,

0

,

0

,

10

,

160

,

0

,

57

,

80

,

0

,

229

,

16

,

0

,

181

,

84

,

0

,

229

,

80

,

0

,

177

,

64

,

0




3120

 DATA5,

84

,

0

,

21

,

84

,

16

,

21

,

1

,

64

,

21

,

84

,

16

,

21

,

84

,

0

,

21

,

84

,

0

,

5

,

84

,

0

,

1

,

16

,

0

,

1

,

16

,

0

,

1

,

16

,

0

,

1

,

16

,

0

,

1

,

16

,

0

,

1

,

19

,

0

,

3

,

252

,

0

,

233




3130

 

REM GO TO ZIRI




3140

 

REM SOLO PER C128




3150

 

REM BY GABRIELE MUTARELLI




3160

 

REM GIUGNO 1986