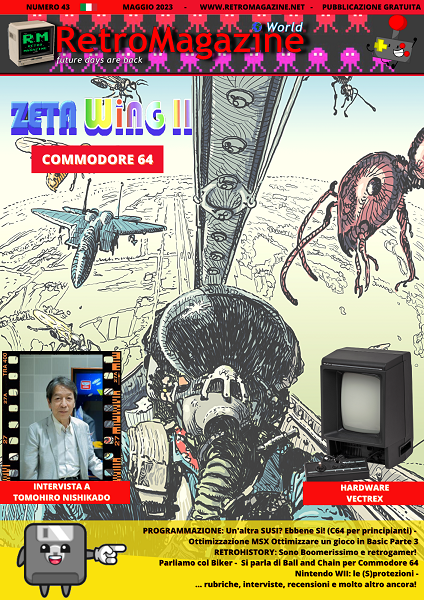 Hanno collaborato alla stesura di questo numero di RetroMagazine World (in ordine sparso):
Dr. Andrea Q.
Carlo N. Del Mar Pirazzini
Daniele Brahimi
Francesco Fiorentini
Leonardo Miliani
Roberto Del Mar Pirazzini
Ingrid Poggiali
Giampaolo Moraschi
Giuseppe Rinella
Eugenio Rapella
Germán Gómez Herrera
Takahiro Yoshioka
Barbara "Morgana" Murgida
Giorgio Balestrieri
GianPaolo Mara
Michele Ugolini
Mic the Biker Novarina
Gianluca Girelli
Marco Pistorio
Immagine di copertina: Giuseppe Mangini
Layout di copertina: Carlo N. Del Mar Pirazzini
Editoriale di Francesco Fiorentini – C'é ancora molto da fare in Italia!
Eh no, purtroppo il titolo di questo editoriale non si riferisce al retrocomputing. Nel momento in cui sto scrivendo infatti la televisione e le maggiori testate giornalistiche italiane stanno riportando le notizie dell'alluvione in Emilia Romagna e Marche. Il mio ed il nostro pensiero non puó che essere con le persone che hanno perso tutto, persino la vita, a causa di questa sciagura… I disastri naturali non possono essere previsti per definizione, ma sicuramente un attento lavoro di prevenzione e preparazione del territorio aiuterebbe a limitarne le conseguenze. In Italia si parla molto, soprattutto quando le cose sono giá accadute, ma spesso e volentieri i fatti non seguono quasi mai le parole… Speriamo che quanto successo in Emilia e Marche serva da lezione e da monito per il futuro e che, almeno questa volta, ai proclami seguano le azioni!
Per chi volesse farlo, lascio il link alla pagina delle donazioni della Croce Rossa Italiana; anche un piccolo contributo puó fare la differenza per chi ne ha bisogno:
https://dona.cri.it/alluvione-emiliaromagna/~mia-donazione
Per tornare ad argomenti piú consoni con la nostra rivista, forse vi sarete accorti che questo numero é giunto con un po' di ritardo rispetto al solito. Come anticipato nell'editoriale del numero precedente infatti, abbiamo voluto dedicare un po' di tempo ed energie ad arricchire il nostro sito web:
http://www.retromagazine.net
Troverete un discreto numero di articoli, soprattutto recensioni di videogiochi, direttamente accessibili dal sito. Era una cosa che avevamo in mente di fare da diverso tempo e finalmente abbiamo trovato il modo di farlo in maniera relativamente semplice.
Per restare in tema, abbiamo anche deciso di cementare la collaborazione con il DumpClub 64. I listati pubblicati su RetroLiPS relativi al recupero del Best of Personal Computer World – Software for the Commodore 64 ne sono un esempio lampante.
Visto il grande lavoro che stanno facendo era il minimo che potessimo fare! Personalmente ho trovato estremamente interessanti un paio di programmi: Solar e Balloon Fun. Mi sono divertito a ricavarne il codice e, per quanto riguarda Solar, aggiornarne i dati al 2023 (si veda Solar 2023).
Come vedete il da fare non manca e contestualmente il divertimento. Potrá sembrare strano, ma c'é chi, come noi, si diverte a recuperare notizie, giochi, programmi, listati e metterli a disposizione di tutti. D'altronde, cosa c'é di piú soddisfacente di mettere le proprie abiolitá al servizio degli altri? In tutti i campi.
Non mi resta che augurarvi buon divertimento ed agli amici alluvionati l'abbraccio e l'augurio che tutto si risolva nel piú presto possibile e nel migliore dei modi. Siamo con voi!
Sommario:
Nintendo WII – le (s)protezioni – parte 1
Vectrex
Intervista a Tomohiro Nishikado
Intervista a Giovanni Galli
Un'altra Susi? Ebbene sì!
MSX, ottimizzare un gioco in BASIC – pt. 3
Sono boomerissimo e retrogamer!
Giappone 22^puntata – Nintendo: la forza dell'esperienza
Ball and Chain (C64)
Boxx 4 (Amiga)
Galaxian (Plus4)
Onescape (Atari XE/XL)
Revenge of Trasmoz (Amstrad CPC)
Space Station 23 (C64)
Lunark (Switch)
Zeta Wing II (C64)
The Cursed Night (MD)
Text Quest (C64)
Bruxolico (ZX)
Newsstand (C64)
Nox Archaist (Apple II)
Cyberpunks 2 (Amiga)
Mad House (MSX2)
Skyblazer (Snes)
Painter Momopie (GB)
Scooby-Doo (C64)