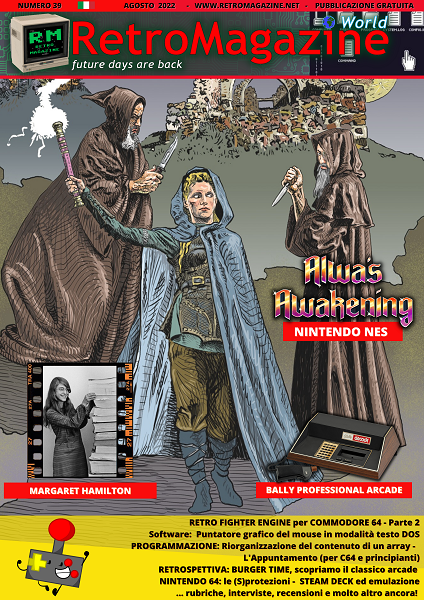 Hanno collaborato alla stesura di questo numero di RetroMagazine World (in ordine sparso):
Alberto Apostolo

Dr. Andrea Q.
Carlo N. Del Mar Pirazzini
Daniele Brahimi
Mic the Biker Novarina
Francesco Fiorentini
Leonardo Miliani
The Orbital Crew
Gianluca Alberico
Roberto Del Mar Pirazzini
Ingrid Poggiali
Gianluca Girelli
Giampaolo Moraschi
Hakim Rezki
Beppe Rinella
Franco Bressan
Marco Pistorio
Michele Ugolini
Eugenio Rapella
Immagine di copertina: Giuseppe Mangini
Layout di copertina: Carlo N. Del Mar Pirazzini
Editoriale di David La Monaca – Battere il "ferro" finché é caldo
Tutti noi appassionati di retrocomputing e retrogaming, chi più chi meno, nutriamo una passione speciale per l'hardware. I giocatori occasionali di vecchi e nuovi titoli a volte si accontentano di emulatori software o dei riproduttori di hardware come le serie Mini/Maxi/Next o Mist/Mistica/Mister. Ma, confessiamolo, l'effetto "nostalgia" completo si ottiene soltanto con l'hardware originale che porta con sé il look & feel inimitabile di ogni home computer o console degli anni '80.
Come testimoniato dallo scorso numero di RMW che ha festeggiato i primi 40 anni di due delle macchine che hanno fatto la storia dell'informatica personale in Europa e in America, il tempo passa inesorabile. Molti di questi nostri amati computer cominciano a mostrare i segni dell'età e, pur potendo contare spesso su una buona progettazione che li ha resi robusti e resistenti ai guasti, tutti i possessori di hardware originale, prima o poi, hanno dovuto confrontarsi con schermi improvvisamente neri o pieni di caratteri incomprensibili e altri segnali inequivocabili di problemi elettrici o elettronici subiti dai vari componenti distribuiti sulle motherboard dei nostri sistemi.
E quando si verifica un guasto, ammettiamolo, il 95% degli utenti di hardware originale, come già accadeva 40 anni fa, solitamente va in panico totale, temendo di aver perso per sempre la possibilità di giocare o programmare con il computer/la console cui tiene come a un figlio… Dopo i primi minuti di disperazione, che fare se non rivolgersi "all'amico-che-ci-capisce" o, speranzosi, scrivere un post d'aiuto sul forum o sul gruppo Facebook specializzato in quel marchio/modello?
Chi scrive sa di essere in buona compagnia quando afferma di poter effettuare soltanto riparazioni elementari, ben consapevole di rappresentare niente di più che un pericolo pubblico quando un saldatore acceso capita fra le sue mani. Per fortuna, negli anni, ho conosciuto tecnici elettronici davvero bravi e dotati della virtù più importante che un riparatore deve possedere: la pazienza. Quando accade qualcosa di apparentemente irreparabile ad una delle mie tante macchine, so a chi rivolgermi in Italia o all'estero. Costi di spedizione e tempi di risoluzione a parte, di solito, dopo un guasto ad una macchina, sono ragionevolmente certo di poterla riavere di nuovo funzionante entro un certo lasso di tempo ed entro un altrettanto certo esborso di denaro.
E allora dedichiamo questo numero di RMW e questo editoriale di settembre, tempo in cui di solito, dopo le vacanze, ripartono le attività lavorative e ci si rigenera verso un nuovo anno di fatiche, proprio a tutti coloro che sanno dove mettere le mani in caso di guasti hardware. Fortunatamente sono ancora tanti coloro che ci possono aiutare a riparare i guasti delle macchine più o meno famose del mercato anni 80 e 90. Si tratta spesso di persone capaci, operose e disponibili e sono sparse tra noi, poveri mortali, nei vari forum e nei gruppi dedicati al retrocomputing. Sappiamo bene quanto sia importante il loro know-how e come vada in tutti i modi preservato con documentazione, manuali, video tutorial e corsi on-line.
Il tempo è il principale nemico dell'hardware e se si vuole mantenerlo in vita, c'è e ci sarà in futuro bisogno di questi guru, stregoni, venerabili portatori sani del Sapere supremo di resuscitare computer, monitor, console e periferiche. Supportate sempre e comunque i vostri riparatori di fiducia, fate loro comprendere quanto grande sia la vostra stima e quanto sia importante che diffondano, se possibile, la loro arte anche alle nuove generazioni. Noi di RMW li invitiamo a scriverci e a mandarci i loro articoli basati sulle loro esperienze di riparazione più complesse o più curiose.
Sommario:
Bally Professional Arcade
Nintendo 64 – le (s)protezioni
Emudeck – Emulazione su Steam Deck
A500 MINI – La mia macchina del tempo in miniatura
WII: La "Revolution" di Nintendo
Puntatore del mouse grafico in modalitá testo – DOS
L'Appuntamento (per C64 e per principianti)
RetroFighter engine per Commodore 64 – pt. 2
Riorganizzazione in ordine casuale del contenuto di un array
Intervista agli Illiterate Code Games
Margaret Hamilton, la prima ingegnere del software
Giappone 19^puntata: Giappone quo vadis?
Burger Time
The Red Serpent Invasion (Evoke 2022)
Dottie Dreads Nought (SNes)
Eye of the Beholder (C64)
Luykia the Lost Island (Plus/4)
Alwa's Awakening (NES)
Knights & Slimes (C64)
Live a Live (SNes)
Arkegis Revolution (MD)
Impossible Mission (Plus/4)
Powers in the Basement (PC)
Ruby & Rusty Save the Crows (GBC)
Thunder Paw (MD)
Jungle Joe (C64)
180 (C64)
Malaika Prehistoric Quest (MSX)