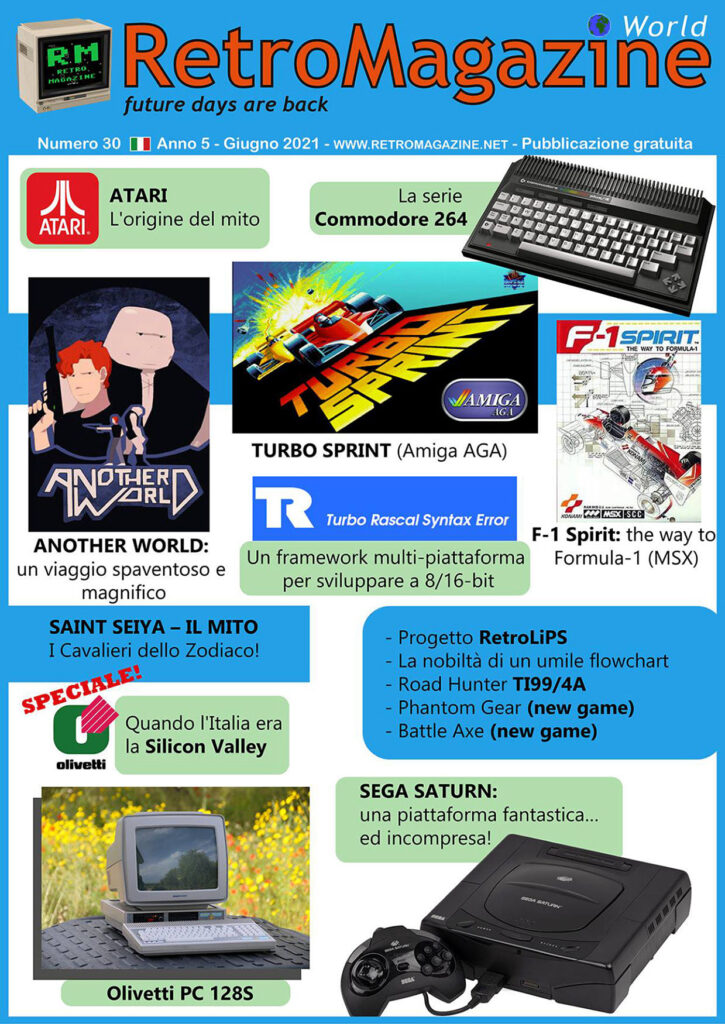 Hanno collaborato alla stesura di questo numero di RetroMagazine World (in ordine sparso):
Alberto Apostolo
Gianluca Girelli
Proteus075/C. Concari
Carlo N. Del Mar Pirazzini
Daniele Brahimi
Mic the Biker Novarina
Francesco Fiorentini
Takahiro Yoshioka
David La Monaca
Francesco Coppola
Leonardo Miliani
Beppe Rinella
Christian Miglio
Ermanno Betori
Roberto Del Mar Pirazzini
Il Redattore
Mascherato Jr.
Flavio Soldani
Copertina a cura di: Flavio Soldani
Editoriale di Alberto Apostolo e Francesco Fiorentini
Més que un Magazine
"Més que un club" è lo slogan orgogliosamente esibito dal Barcellona FC sulle gradinate del suo stadio di calcio. Con altrettanto orgoglio possiamo affermare che RetroMagazine World è più che un semplice magazine riservato a un gruppo di appassionati. Con le iniziative realizzate (il sito, "Press Play Again", ecc.) e la presenza sui social più frequentati, dimostra di essere una comunità piena di vita.
La Redazione ha visto ultimamente aumentare il numero dei collaboratori cominciando da Mike "The biker" Novarina, Alessandro Albano e proseguendo con Francesco Coppola, Beppe Rinella, Christian Miglio (chiedendo umilmente scusa se abbiamo tralasciato qualcun altro meritevole di essere ricordato).
In particolare il giovane Francesco Coppola si occuperà del mondo Atari, mentre Beppe Rinella arricchirà gli articoli sui giochi uscendo dagli schemi della solita recensione. RetroMagazine World riscuote apprezzamenti perchè fatta mettendoci l'anima ("heart and soul" come si dice in inglese oppure "spirit" come diceva Steve Jobs).
Sommario:
La calcolatrice Karnak MFP810
SEGA Saturn: una console fantastica… ed incompresa!
La serie Commodore 264
Olivetti: quando l'Italia era la Silicon Valley
Olivetti PC128S
Il progetto RetroLips
La nobiltà di un umile flowchart
Introduzione alla grafica su C128 – parte 2
Turbo Rascal SE – un IDE completo per sviluppare a 8/16 bit
ATARI – L'origine del mito
Another World – un viaggio spaventoso e magnifico
Road Hunter per TI99/4A
Wizard of Wor per Commodore 64
F-1 Spirit: the way to Formula-1 (MSX)
Turbo Sprint (Amiga AGA)
Saint Senya – Il mito [game preview] (PC/Android)
Phantom Gear (Sega MD)
Earthbound (SNES)
Battle Axe (PC/NG)
Sokko Seitokai: Sonic Council (Saturn)
Spearhead (C64)
Mutants from the Deep (MSX)
Jump Out (C64)
Light Force (C64)
Gioca pure ma poi rompi tutto!