Rivista: Paper Soft – Numero: 1 – Anno 1984 – Trascrizione: Ermanno Betori
Dopo aver recentemente pubblicato due listati Basic per il Commodore 64, Giant's Gold e C64 Clock ed uno per Dragon32/64, Valley of Death, é arrivato il momento di dare spazio ad un computer che li ha preceduti entrambi, il TI99/4A della Texas Instruments.
Il listato che andiamo a presentarvi é un simpatico gioco scritto in TI-Basic con tanto di grafica ridefinita, ottenuta tramite la redefinizione dei caratteri ASCII standard.
Il listato originale di Camelot e' stato pubblicato sulla rivista Paper Soft numero 1 del 1984, edita da JSoft.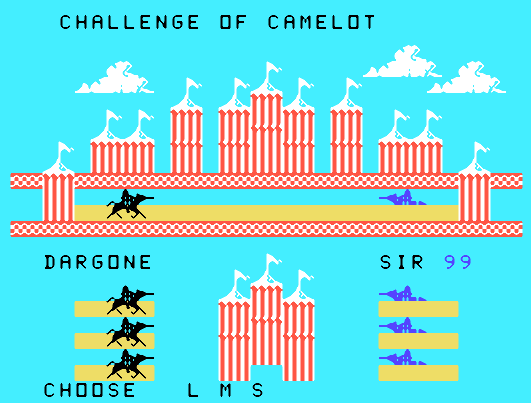 Titolo: Challenge of Camelot
Piattaforma: TI 99/4A
Linguaggio: TI-Basic
Versione originale: 99'ER Version 2.11.1
Pubblicazione: PaperSoft 1 – 1984
Anno: 1984
Trascrizione: Ermanno Betori
Anno: 2021
Download: Camelot.dsk
Note: Simulazione del classico gioco carta, sasso, forbice…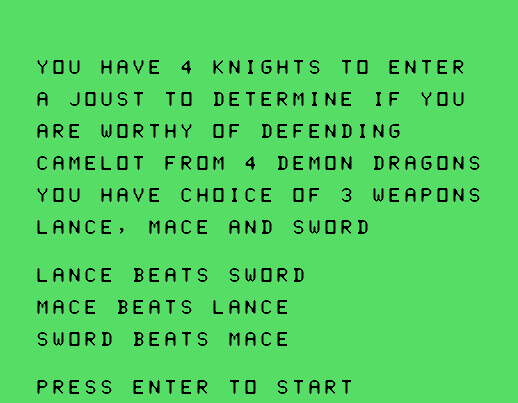 Istruzioni
Come nel gioco carta, sasso, forbice, in questo gioco dobbiamo affrontare una serie di cavalieri in una giostra medievale, scegliendo di volta in volta l'arma da utilizzare nella tenzone.
Al posto dei canonici carta, sasso, forbice, dovremo utilizzare:
L – Lancia
S – Spada
M – Mazza
– Lancia batte Spada
– Mazza batte Lancia
– Spada batte Mazza
Qui di seguito trovate il codice da copiare sul vostro TI99/4A oppure su un emulatore, noi suggeriamo Classic99
Di seguito le istruzioni per caricare il listato sull'emulatore Classic99:
– Copiare il listato di cui sotto
– Avviare l'emulatore e premere un tasto qualsiasi
– Dopodiché premere 1 per avviare il TI Basic
– Dal comando Edit, selezionare Paste (Ctrl+F1) per incollare il listato
– Digitare RUN per eseguire il codice
– Buon divertimento!!!
Attenzione – Ci siamo resi conto che nel listato i caratteri '>' e '<' potrebbero venir sostituiti dai rispettivi encoding html '&gt' e '&lt'. Nel caso, sostituite questi valori nel listato prima di copiarlo sull'emulatore.
Listato: Camelot – Ti99/4A – TI-Basic




1
2
3
4
5
6
7
8
9
10
11
12
13
14
15
16
17
18
19
20
21
22
23
24
25
26
27
28
29
30
31
32
33
34
35
36
37
38
39
40
41
42
43
44
45
46
47
48
49
50
51
52
53
54
55
56
57
58
59
60
61
62
63
64
65
66
67
68
69
70
71
72
73
74
75
76
77
78
79
80
81
82
83
84
85
86
87
88
89
90
91
92
93
94
95
96
97
98
99
100
101
102
103
104
105
106
107
108
109
110
111
112
113
114
115
116
117
118
119
120
121
122
123
124
125
126
127
128
129
130
131
132
133
134
135
136
137
138
139
140
141
142
143
144
145
146
147
148
149
150
151
152
153
154
155
156
157
158
159
160
161
162
163
164
165
166
167
168
169
170
171
172
173
174
175
176
177
178
179
180
181
182
183
184
185
186
187
188
189
190
191
192
193
194
195
196
197
198
199
200
201
202
203
204
205
206
207
208
209
210
211
212
213
214
215
216
217
218
219
220
221
222
223
224
225
226
227
228
229
230
231
232
233
234
235
236
237
238
239
240
241
242
243
244
245
246
247
248
249
250
251
252
253
254
255
256
257
258
259
260
261
262
263
264
265
266
267
268
269
270
271
272
273
274
275
276
277
278
279
280
281
282
283
284
285
286
287
288
289
290
291
292
293
294
295
296
297
298
299
300
301
302
303
304
305
306
307
308
309
310
311
312
313
314
315
316
317
318
319
320
321
322
323
324
325
326
327
328
329
330
331
332
333
334
335
336
337
338
339
340
341
342
343
344
345
346
347
348
349
350
351
352
353
354
355
356
357
358
359
360
361
362
363
364
365
366
367
368
369
370
371
372
373
374
375
376
377
378
379
380
381
382
383
384
385
386
387
388
389
390
391
392
393
394
395
396
397
398
399
400
401
402
403
404
405
406
407
408
409
410
411
412
413
414
415
416
417
418
419
420
421
422
423
424
425
426
427
428
429
430
431
432
433
434
435
436
437
438
439
440
441
442
443
444
445
446
447
448
449
450
451
452
453
454
455
456
457
458
459
460
461
462
463
464
465
466
467
468
469
470
471
472
473


130

 

REM   ** CAMELOT ** 




140

 

REM  BY GARY GARRETT 




150

 

REM  99'ER VERSION 2.11.1     




160

 

CALL

 

CLEAR




170

 

GOSUB

 

4440




180

 

GOSUB

 

4490




190

 

CALL

 

CLEAR




200

 

GOTO

 

250




210

 

RESTORE

 

4700




220

 R

=

10




230

 

GOSUB

 

4610




240

 

RETURN




250

 

INPUT

 

"NAME PLEASE:"

:O$


260

 

INPUT

 

"INSTRUCTIONS? (Y/N) "

:A$


270

 

IF

 A$

=

"Y"

 

THEN

 

3680

 

ELSE

 

1460




280

 

CALL

 

CLEAR




290

 G

=

2




300

 

CALL

 

SCREEN

(

8

)




310

 

PRINT

 

" CHALLENGE OF CAMELOT "

: : : : : : : : : : : : : : :


320

 

PRINT

 O$,

" THE DRAGON"

: : : : : : : :


330

 

DATA

 

6

,

5

,

7

,

10

,

4

,

21

,

6

,

27




340

 

DATA

 

10

,

1

,

9

,

2

,

10

,

15

,

9

,

16

,

8

,

17

,

7

,

18

,

10

,

1

,

1

,

1




350

 

DATA

 

10

,

14

,

7

,

25

,

9

,

31

,

10

,

32

,

10

,

1




360

 

RESTORE

 

4720




370

 R

=

11




380

 

GOSUB

 

4610




390

 

CALL

 

COLOR

(

9

,

16

,

1

)




400

 

CALL

 

COLOR

(

14

,

2

,

1

)




410

 

CALL

 

COLOR

(

10

,

5

,

16

)




420

 

CALL

 

COLOR

(

11

,

5

,

8

)




430

 

DATA

 

3

,

3

,

4

,

9

,

5

,

14

,

3

,

17

,

3

,

27

,

3

,

3




440

 

GOSUB

 

1140




450

 

RESTORE

 

330




460

 

FOR

 I

=

1

 

TO

 

4




470

 

READ

 X,Y


480

 

CALL

 HCHAR

(

X,Y,

101

)




490

 

CALL

 HCHAR

(

X,Y

+

1

,

102

)




500

 

CALL

 HCHAR

(

X

+

1

,Y

-

1

,

101

)




510

 

CALL

 HCHAR

(

X

+

1

,Y,

103

,

2

)




520

 

CALL

 HCHAR

(

X

+

1

,Y

+

2

,

102

)




530

 

CALL

 HCHAR

(

X

+

2

,Y

-

1

,

104

)




540

 

CALL

 HCHAR

(

X

+

2

,Y,

105

,

2

)




550

 

CALL

 HCHAR

(

X

+

2

,Y

+

2

,

106

)




560

 

CALL

 HCHAR

(

X

+

2

,Y

-

2

,

112

)




570

 

CALL

 HCHAR

(

X

+

2

,Y

+

3

,

113

)




580

 

CALL

 VCHAR

(

X

+

3

,Y

-

2

,

114

,

12

-

(

X

+

3

)

)




590

 

CALL

 VCHAR

(

X

+

3

,Y

-

1

,

114

,

12

-

(

X

+

3

)

)




600

 

CALL

 VCHAR

(

X

+

3

,Y,

114

,

12

-

(

X

+

3

)

)




610

 

CALL

 VCHAR

(

X

+

3

,Y

+

1

,

114

,

12

-

(

X

+

3

)

)




620

 

CALL

 VCHAR

(

X

+

3

,Y

+

2

,

114

,

12

-

(

X

+

3

)

)




630

 

CALL

 VCHAR

(

X

+

3

,Y

+

3

,

114

,

12

-

(

X

+

3

)

)




640

 

NEXT

 I


650

 

RESTORE

 

340




660

 

FOR

 I

=

1

 

TO

 

6




670

 

READ

 X,Y


680

 

CALL

 HCHAR

(

X,Y,

112

)




690

 

CALL

 VCHAR

(

X

+

1

,Y,

114

,

12

-

(

X

+

1

)

)




700

 

NEXT

 I


710

 

RESTORE

 

350




720

 

FOR

 I

=

1

 

TO

 

4




730

 

READ

 X,Y


740

 

CALL

 HCHAR

(

X,Y,

113

)




750

 

CALL

 VCHAR

(

X

+

1

,Y,

114

,

12

-

(

X

+

1

)

)




760

 

NEXT

 I


770

 

CALL

 HCHAR

(

9

,

8

,

107

)




780

 

CALL

 HCHAR

(

8

,

25

,

107

)




790

 

RESTORE

 

430




800

 

FOR

 F

=

1

 

TO

 

5




810

 

GOSUB

 

1180




820

 

NEXT

 F


830

 

RESTORE

 

1870




840

 

FOR

 I

=

1

 

TO

 

4




850

 

READ

 X


860

 Y

=

8




870

 

GOSUB

 

1260




880

 

NEXT

 I


890

 

RESTORE

 

4830




900

 R

=

8




910

 

GOSUB

 

4610




920

 

RESTORE

 

1870




930

 

FOR

 I

=

1

 

TO

 

4




940

 

READ

 A


950

 B

=

25




960

 

GOSUB

 

990




970

 

NEXT

 I


980

 

GOTO

 

2170




990

 

CALL

 

COLOR

(

12

,

13

,

1

)




1000

 

CALL

 HCHAR

(

A,B

+

3

,

32

,

3

)




1010

 

CALL

 HCHAR

(

A

+

1

,B

+

3

,

32

,

3

)




1020

 

CALL

 HCHAR

(

A,B

-

1

,

120

)




1030

 

CALL

 

SOUND

(

9

,

-

1

,

9

)




1040

 

CALL

 HCHAR

(

A,B,

121

)




1050

 

CALL

 HCHAR

(

A,B

+

1

,

32

)




1060

 

CALL

 HCHAR

(

A,B

+

2

,

122

)




1070

 

CALL

 HCHAR

(

A

+

1

,B

-

1

,

123

)




1080

 

CALL

 HCHAR

(

A

+

1

,B,

124

)




1090

 

CALL

 HCHAR

(

A

+

1

,B

+

1

,

125

)




1100

 

CALL

 

SOUND

(

9

,

-

2

,

9

)




1110

 

CALL

 HCHAR

(

A

+

1

,B

+

2

,

126

)




1120

 

CALL

 HCHAR

(

A

+

1

,B

+

3

,

127

)




1130

 

RETURN




1140

 

RESTORE

 

4750




1150

 R

=

4




1160

 

GOSUB

 

4610




1170

 

RETURN




1180

 

READ

 X,Y


1190

 

CALL

 HCHAR

(

X,Y,

99

)




1200

 

CALL

 HCHAR

(

X,Y

+

1

,

100

)




1210

 

CALL

 HCHAR

(

X

+

1

,Y

-

2

,

97

)




1220

 

CALL

 HCHAR

(

X

+

1

,Y

-

1

,

99

)




1230

 

CALL

 HCHAR

(

X

+

1

,Y,

98

,

2

)




1240

 

CALL

 HCHAR

(

X

+

1

,Y

+

2

,

100

)




1250

 

RETURN




1260

 

CALL

 HCHAR

(

X,Y

-

3

,

32

,

2

)




1270

 

CALL

 HCHAR

(

X

+

1

,Y

-

3

,

142

,

2

)




1280

 

CALL

 HCHAR

(

X,Y

-

1

,

131

)




1290

 

CALL

 

SOUND

(

8

,

-

2

,

9

)




1300

 

CALL

 HCHAR

(

X,Y,

132

)




1310

 

CALL

 

SOUND

(

8

,

-

3

,

9

)




1320

 

CALL

 HCHAR

(

X,Y

+

1

,

133

)




1330

 

CALL

 HCHAR

(

X

+

1

,Y

-

1

,

141

)




1340

 

CALL

 HCHAR

(

X

+

1

,Y,

140

)




1350

 

CALL

 HCHAR

(

X

+

1

,Y

+

1

,

143

)




1360

 

RETURN




1370

 

CALL

 HCHAR

(

A,B

+

2

,

32

,

2

)




1380

 

CALL

 

COLOR

(

4

,

5

,

1

)




1390

 

CALL

 HCHAR

(

A,B

-

1

,

58

)




1400

 

CALL

 

SOUND

(

8

,

-

1

,

9

)




1410

 

CALL

 HCHAR

(

A,B,

59

)




1420

 

CALL

 

SOUND

(

8

,

-

2

,

9

)




1430

 

CALL

 HCHAR

(

A,B

+

1

,

60

)




1440

 

CALL

 HCHAR

(

A

+

1

,B

-

1

,

142

,

5

)




1450

 

RETURN




1460

 G

=

1




1470

 

CALL

 

CLEAR




1480

 

CALL

 

SCREEN

(

8

)




1490

 

PRINT

 O$;

","

:

"PLEASE WAIT WHILE I MEASURE YOU FOR YOUR SUIT OF ARMOUR"

: : :


1500

 

RESTORE

 

4760




1510

 R

=

7




1520

 

GOSUB

 

4610




1530

 

PRINT

 

"IT LOOKS LIKE YOU WEAR AN   OFF THE RACK SIZE"

: : : :


1540

 

FOR

 I

=

1

 

TO

 

300




1550

 

NEXT

 I


1560

 

DATA

 

9

,

4

,

7

,

7

,

7

,

9

,

5

,

12

,

5

,

15

,

4

,

17

,

5

,

19

,

5

,

22

,

7

,

25

,

7

,

27

,

9

,

30

,

17

,

15

,

16

,

17

,

17

,

19




1570

 

PRINT

 

" CHALLENGE OF CAMELOT"

: : : : : : : : : : : : : : :O$,

"       SIR 99"

: : : : : : : :


1580

 

CALL

 

COLOR

(

9

,

16

,

1

)




1590

 

CALL

 

COLOR

(

10

,

9

,

16

)




1600

 

CALL

 

COLOR

(

13

,

2

,

1

)




1610

 

CALL

 

COLOR

(

14

,

2

,

12

)




1620

 

CALL

 HCHAR

(

11

,

1

,

106

,

32

)




1630

 

DATA

 

4

,

7

,

3

,

25

,

4

,

29




1640

 

GOSUB

 

1140




1650

 

RESTORE

 

1560




1660

 

FOR

 I

=

1

 

TO

 

14




1670

 

READ

 X,Y


1680

 

CALL

 HCHAR

(

X,Y,

101

)




1690

 

CALL

 HCHAR

(

X

+

1

,Y

-

1

,

102

)




1700

 

CALL

 HCHAR

(

X

+

1

,Y,

103

)




1710

 

CALL

 HCHAR

(

X

+

2

,Y

-

1

,

104

,

2

)




1720

 

CALL

 HCHAR

(

X

+

3

,Y

-

1

,

105

,

2

)




1730

 

CALL

 HCHAR

(

X

+

4

,Y

-

1

,

105

,

2

)




1740

 

IF

(

10

<

Y

)

*

(

Y

<

23

)

THEN

 

1750

 

ELSE

 

1780




1750

 

CALL

 HCHAR

(

X

+

5

,Y

-

1

,

105

,

2

)




1760

 

CALL

 HCHAR

(

X

+

6

,Y

-

1

,

105

,

2

)




1770

 

CALL

 HCHAR

(

X

+

4

,Y

-

1

,

104

,

2

)




1780

 

CALL

 HCHAR

(

11

,

5

,

106

,

24

)




1790

 

NEXT

 I


1800

 

CALL

 HCHAR

(

14

,

1

,

106

,

32

)




1810

 

CALL

 HCHAR

(

13

,

5

,

142

,

24

)




1820

 

RESTORE

 

1630




1830

 

FOR

 F

=

1

 

TO

 

3




1840

 

GOSUB

 

1180




1850

 

NEXT

 F


1860

 

GOSUB

 

210




1870

 

DATA

 

12

,

18

,

20

,

22




1880

 

RESTORE

 

1870




1890

 

FOR

 I

=

1

 

TO

 

4




1900

 

READ

 X


1910

 Y

=

8




1920

 

GOSUB

 

1260




1930

 

NEXT

 I


1940

 

RESTORE

 

1870




1950

 

FOR

 I

=

1

 

TO

 

4




1960

 

READ

 A


1970

 B

=

25




1980

 

GOSUB

 

1370




1990

 

NEXT

 I


2000

 

GOSUB

 

4490




2010

 

GOTO

 

2170




2020

 

DATA

 

10

,

23

,

12

,

21

,

14

,

19

,

16

,

17




2030

 

RESTORE

 

2020




2040

 

FOR

 F

=

1

 

TO

 

4




2050

 

READ

 Y,B


2060

 X

=

12




2070

 A

=

12




2080

 

IF

 G

=

1

 

THEN

 

2110




2090

 

GOSUB

 

990




2100

 

GOTO

 

2120




2110

 

GOSUB

 

1370




2120

 

GOSUB

 

1260




2130

 

NEXT

 F


2140

 

CALL

 

SOUND

(

200

,

1000

,

0

,

3250

,

0

,

6750

,

0

)




2150

 

CALL

 

SOUND

(

200

,

1000

,

15

,

3250

,

15

,

6750

,

15

)




2160

 

GOTO

 

2500




2170

 M

=

4




2180

 N

=

4




2190

 X

=

12




2200

 A

=

12




2210

 

GOSUB

 

210




2220

 

RANDOMIZE




2230

 C

=

INT

(

RND

*

3

)

+

1




2240

 

ON

 C 

GOTO

 

2250

,

2270

,

2290




2250

 W$

=

"LANCE "




2260

 

GOTO

 

2300




2270

 W$

=

"MACE"




2280

 

GOTO

 

2300




2290

 W$

=

"SWORD "




2300

 

DATA

 

67

,

72

,

79

,

79

,

83

,

69

,

32

,

32

,

32

,

76

,

32

,

77

,

32

,

83




2310

 

RESTORE

 

2300




2320

 

FOR

 A

=

3

 

TO

 

16




2330

 

READ

 B


2340

 

CALL

 HCHAR

(

24

,A,B

)




2350

 

NEXT

 A


2360

 

GOSUB

 

4560




2370

 

CALL

 

KEY

(

0

,A,B

)




2380

 

IF

 B

=

0

 

THEN

 

2370




2390

 A$

=

CHR

$

(

A

)




2400

 

CALL

 HCHAR

(

24

,

1

,

32

,

32

)




2410

 

CALL

 HCHAR

(

15

,

1

,

32

,

32

)




2420

 P

=

POS

(

"LMS"

,A$,

1

)




2430

 

IF

 P

>

0

 

THEN

 

2450




2440

 

GOTO

 

2310




2450

 

FOR

 A

=

18

 

TO

 

23




2460

 

CALL

 HCHAR

(

A,

4

,

32

,

6

)




2470

 

CALL

 HCHAR

(

A,

23

,

32

,

8

)




2480

 

NEXT

 A


2490

 

ON

 G 

GOTO

 

2020

,

3980




2500

 

IF

 C

=

P 

THEN

 

2920




2510

 

IF

 C

+

P

=

4

 

THEN

 

2870




2520

 

IF

 P

<=

C 

THEN

 

2540




2530

 

ON

 G 

GOTO

 

2700

,

4110




2540

 

IF

 G

=

2

 

THEN

 

4190




2550

 

RESTORE

 

4780




2560

 R

=

7




2570

 

GOSUB

 

4610




2580

 

DATA

 

18

,

15

,

20

,

13

,

22

,

11

,

24

,

9

,

26

,

7

,

28

,

5




2590

 

RESTORE

 

2580




2600

 A

=

12




2610

 X

=

12




2620

 

FOR

 I

=

1

 

TO

 

5




2630

 

READ

 Y,B


2640

 

GOSUB

 

1370




2650

 

GOSUB

 

1260




2660

 

NEXT

 I


2670

 N

=

N

-

1




2680

 P$

=

"I WON, I USED A "




2690

 

GOTO

 

3100




2700

 M

=

M

-

1




2710

 

RESTORE

 

4800




2720

 R

=

3




2730

 

GOSUB

 

4610




2740

 P$

=

"YOU WON, I USED A "




2750

 X

=

12




2760

 Y

=

16




2770

 

GOSUB

 

1260




2780

 

RESTORE

 

2580




2790

 

FOR

 I

=

1

 

TO

 

5




2800

 

READ

 Y,B


2810

 X

=

12




2820

 A

=

12




2830

 

GOSUB

 

1370




2840

 

GOSUB

 

1260




2850

 

NEXT

 I


2860

 

GOTO

 

3100




2870

 

ON

 G 

GOTO

 

2900

,

2880




2880

 

IF

 P

>

C 

THEN

 

4190




2890

 

GOTO

 

4110




2900

 

IF

 P

>

C 

THEN

 

2550




2910

 

GOTO

 

2700




2920

 P$

=

"NO ONE WON, I USED A "




2930

 

ON

 G 

GOTO

 

2750

,

3760




2940

 

FOR

 I

=

1

 

TO

 

400




2950

 

NEXT

 I


2960

 

ON

 G 

GOTO

 

2970

,

3050




2970

 

CALL

 HCHAR

(

3

,

1

,

32

,

416

)




2980

 

CALL

 HCHAR

(

16

,

1

,

32

,

16

)




2990

 

CALL

 HCHAR

(

16

,

19

,

32

,

14

)




3000

 

PRINT

:

"YOU HAVE WON IN THE JOUST, "

:

"AND AS THE MIGHTIEST KNIGHT"

:

"YOU MUST DEFEND OUR FAIR "




3010

 

PRINT

 

"CAMELOT FROM THE DEMON "

:

"DRAGON. GOOD LUCK"

: : : :


3020

 

GOSUB

 

4490




3030

 

INPUT

 

"PRESS ENTER TO CONTINUE"

:A$


3040

 

GOTO

 

280




3050

 

PRINT

 

"SIR "

;O$:

"YOU HAVE EARNED THE HIGHEST"

:

"HONORS FOR YOUR VALOR"

:

"THEREFORE"




3060

 

PRINT

:

"I WELCOME THEE TO THE "

:

"ROUND TABLE"

: : :


3070

 

GOSUB

 

4440




3080

 

GOSUB

 

4440




3090

 

GOTO

 

3510




3100

 M$

=

P$&W$


3110

 X

=

15




3120

 Y

=

3




3130

 

GOSUB

 

4660




3140

 

IF

 N

=

0

 

THEN

 

3290




3150

 

IF

 M

=

0

 

THEN

 

2940




3160

 

IF

 N

=

1

 

THEN

 

3320




3170

 X

=

18




3180

 Y

=

8




3190

 

GOSUB

 

1260




3200

 

IF

 N

=

2

 

THEN

 

3320




3210

 X

=

20




3220

 Y

=

8




3230

 

GOSUB

 

1260




3240

 

IF

 N

=

3

 

THEN

 

3320




3250

 X

=

22




3260

 Y

=

8




3270

 

GOSUB

 

1260




3280

 

GOTO

 

3320




3290

 

FOR

 I

=

1

 

TO

 

700




3300

 

NEXT

 I


3310

 

GOTO

 

3510




3320

 

IF

 M

=

1

 

THEN

 

3440




3330

 A

=

18




3340

 B

=

25




3350

 

ON

 G 

GOSUB

 

1370

,

990




3360

 

IF

 M

=

2

 

THEN

 

3440




3370

 A

=

20




3380

 B

=

25




3390

 

ON

 G 

GOSUB

 

1370

,

990




3400

 

IF

 M

=

3

 

THEN

 

3440




3410

 A

=

22




3420

 B

=

25




3430

 

ON

 G 

GOSUB

 

1370

,

990




3440

 X

=

12




3450

 Y

=

8




3460

 A

=

12




3470

 B

=

25




3480

 

GOSUB

 

1260




3490

 

ON

 G 

GOSUB

 

1370

,

990




3500

 

GOTO

 

2210




3510

 M$

=

"PLAY AGAIN? (Y/N)"




3520

 X

=

24




3530

 Y

=

7




3540

 

GOSUB

 

4660




3550

 

CALL

 

KEY

(

0

,A,B

)




3560

 

IF

 B

=

0

 

THEN

 

3550




3570

 

IF

 A

=

78

 

THEN

 

3640




3580

 

CALL

 HCHAR

(

24

,

1

,

32

,

32

)




3590

 

GOSUB

 

4490




3600

 N

=

4




3610

 M

=

4




3620

 

IF

 G

=

2

 

THEN

 

1460




3630

 

GOTO

 

3140




3640

 

CALL

 

CLEAR




3650

 

PRINT

 O$;

","

:

"THANK YOU FOR PLAYING"




3660

 

GOSUB

 

4490




3670

 

END




3680

 

CALL

 

CLEAR




3690

 

PRINT

 

"YOU HAVE 4 KNIGHTS TO ENTER "

: :

"A JOUST TO DETERMINE IF YOU "

: :

"ARE WORTHY OF DEFENDING"

: :


3700

 

PRINT

 

"CAMELOT FROM 4 DEMON DRAGONS"

: :

"YOU HAVE CHOICE OF 3 WEAPONS"

: :

"LANCE, MACE AND SWORD"

: : :


3710

 

PRINT

 

"LANCE BEATS SWORD"

: :

"MACE BEATS LANCE"

: :

"SWORD BEATS MACE"

: : :


3720

 

GOSUB

 

4490




3730

 

INPUT

 

"PRESS ENTER TO START"

:A$


3740

 

GOSUB

 

4560




3750

 

GOTO

 

1460




3760

 

CALL

 

COLOR

(

12

,

10

,

1

)




3770

 

CALL

 

COLOR

(

12

,

3

,

1

)




3780

 

RANDOMIZE




3790

 F

=

INT

(

RND

*

2

)

+

1




3800

 

ON

 F 

GOTO

 

3810

,

3960




3810

 

CALL

 

SOUND

(

-

99

,

-

5

,

1

)




3820

 

CALL

 

COLOR

(

13

,

16

,

10

)




3830

 

CALL

 

COLOR

(

14

,

16

,

10

)




3840

 

CALL

 

COLOR

(

13

,

16

,

1

)




3850

 

CALL

 

COLOR

(

14

,

16

,

1

)




3860

 

CALL

 

COLOR

(

13

,

12

,

1

)




3870

 

CALL

 

COLOR

(

14

,

12

,

1

)




3880

 

CALL

 

COLOR

(

13

,

2

,

1

)




3890

 

CALL

 

COLOR

(

14

,

2

,

1

)




3900

 

CALL

 

SOUND

(

150

,

-

6

,

0

)




3910

 

FOR

 I

=

0

 

TO

 

30

 

STEP

 

5




3920

 

CALL

 

SOUND

(

150

,

-

7

,I

)




3930

 

NEXT

 I


3940

 M$

=

" YOUR SHIELD WAS SCORCHED "




3950

 

GOTO

 

4320




3960

 M$

=

"YOU HAVE INJURED THE DRAGON"




3970

 

GOTO

 

4320




3980

 

DATA

 

10

,

23

,

12

,

21

,

14

,

19

,

15

,

18




3990

 

RESTORE

 

3980




4000

 

FOR

 F

=

1

 

TO

 

4




4010

 

READ

 Y,B


4020

 X

=

12




4030

 A

=

12




4040

 

GOSUB

 

990




4050

 

GOSUB

 

1260




4060

 

NEXT

 F


4070

 

FOR

 I

=

0

 

TO

 

30

 

STEP

 

15




4080

 

CALL

 

SOUND

(

200

,

1000

,I,

3250

,I,

6750

,I

)




4090

 

NEXT

 I


4100

 

GOTO

 

2500




4110

 

CALL

 

COLOR

(

12

,

10

,

1

)




4120

 

CALL

 

COLOR

(

12

,

3

,

1

)




4130

 

RESTORE

 

4810




4140

 R

=

8




4150

 

GOSUB

 

4610




4160

 M$

=

" YOU DEFEATED THIS DRAGON"




4170

 M

=

M

-

1




4180

 

GOTO

 

4320




4190

 

CALL

 

SOUND

(

-

99

,

-

5

,

1

)




4200

 

RESTORE

 

4850




4210

 

FOR

 I

=

1

 

TO

 

4




4220

 

READ

 A,B


4230

 

CALL

 

COLOR

(

13

,A,B

)




4240

 

CALL

 

COLOR

(

14

,A,B

)




4250

 

NEXT

 I


4260

 

CALL

 

SOUND

(

150

,

-

6

,

0

)




4270

 

FOR

 I

=

0

 

TO

 

30

 

STEP

 

5




4280

 

CALL

 

SOUND

(

150

,

-

7

,I

)




4290

 

NEXT

 I


4300

 M$

=

" YOUR KNIGHT WAS SCORCHED"




4310

 N

=

N

-

1




4320

 X

=

15




4330

 Y

=

2




4340

 

GOSUB

 

4660




4350

 

CALL

 HCHAR

(

12

,

1

,

32

,

128

)




4360

 

CALL

 

COLOR

(

13

,

2

,

1

)




4370

 

CALL

 

COLOR

(

14

,

2

,

1

)




4380

 

RESTORE

 

4830




4390

 R

=

8




4400

 

GOSUB

 

4610




4410

 

GOTO

 

3140




4420

 

DATA

 

262

,

262

,

523

,

523

,

523

,

523

,

466

,

466

,

440




4430

 

DATA

 

262

,

330

,

392

,

523

,

330

,

392

,

523

,

659

,

392

,

523

,

659

,

784

,

523

,

659

,

784

,

1046

,

1046




4440

 

RESTORE

 

4430




4450

 

FOR

 I

=

1

 

TO

 

17




4460

 

READ

 F


4470

 

CALL

 

SOUND

(

100

,F,

12

)




4480

 

NEXT

 I


4490

 

RESTORE

 

4420




4500

 

FOR

 I

=

1

 

TO

 

9




4510

 

READ

 A


4520

 

CALL

 

SOUND

(

200

,A,

19

)




4530

 

NEXT

 I


4540

 

CALL

 

SOUND

(

1600

,

440

,

20

,

175

,

20

)




4550

 

RETURN




4560

 

FOR

 I

=

1

 

TO

 

3




4570

 

CALL

 

SOUND

(

100

,

262

,

15

,

1047

,

15

)




4580

 

CALL

 

SOUND

(

300

,

392

,

15

,

1568

,

15

)




4590

 

NEXT

 I


4600

 

RETURN




4610

 

FOR

 U

=

1

 

TO

 R


4620

 

READ

 A,A$


4630

 

CALL

 CHAR

(

A,A$

)




4640

 

NEXT

 U


4650

 

RETURN




4660

 

FOR

 I

=

1

 

TO

 

LEN

(

M$

)




4670

 

CALL

 HCHAR

(

X,Y

+

I,

ASC

(

SEG$

(

M$,I,

1

)

)

)




4680

 

NEXT

 I


4690

 

RETURN




4700

 

DATA

 

131

,000000000100314F,

132

,40E0E1F9AFFBAFAF,

133

,000000E0FFE08000,

58

,00000007FF070100


4710

 

DATA

 

59

,0207879FF5BFF5F5,

60

,000000008000ECEF,

140

,DEFE2F33010A0400,

141

,8F1F1E1834428100,

142

,

0




4720

 

DATA

 

143

,00000080402010,

101

,01030B0F1F3FBFFF,

102

,80C0C0E0F8F8FDFF,

103

,FFFFFFFFFFFFFFFF,

104

,10A262CC981135FD


4730

 

DATA

 

105

,089A92B998D9B1F5,

106

,301596DBD98CD69F,

107

,FEFCF5FFAE6DD3F7F,

112

,01030B0F1F3FBFFF


4740

 

DATA

 

113

,80C0C0E0F8F8FDFF,

114

,FFFFFFFFFFFFFFFF


4750

 

DATA

 

97

,0000000C0E1E3FFF,

98

,FFFFFFFFFEFFFEF6,

99

,030F2777FFFFFF7F,

100

,60F0C8D0A040789F


4760

 

DATA

 

142

,

0

,

101

,80E0F0FACD848080,

102

,00010103070F3FFF,

103

,80808040A0508CFF


4770

 

DATA

 

104

,44EE776666666666,

105

,

6666666666666666

,

106

,FFCC3333CCCC33FF


4780

 

DATA

 

131

,393B94DA3D06334F,

132

,030CB1C1416BA7F7,

133

,000000E0E08,

140

,E6FE2F31010A04


4790

 

DATA

 

131

,000000000001314F,

132

,00000101010B0777,

140

,06FE1F03010A04


4800

 

DATA

 

58

,0000000707070100,

59

,0000808080D0F0FF,

60

,000000008000ECF3


4810

 

DATA

 

120

,

0

,

121

,

0

,

122

,

0

,

123

,040201000033059FF,

124

,000001875F3FEFDF,

125

,0070FCFFFFEFEFDF


4820

 

DATA

 

126

,00000000C0F0FEFF,

127

,0000000007030DF0


4830

 

DATA

 

120

,00000030D8FC0F07,

121

,000000008090B2F6,

122

,0038182840402010,

123

,0303030A14,

124

,FEFFFFFFFF77073F


4840

 

DATA

 

125

,C0D0F8F8FCFFFFC7,

126

,0C020101021CF0C,

127

,00


4850

 

DATA

 

16

,

10

,

16

,

1

,

12

,

1

,

1

,

1