Rivista: Micro Adventurer – Numero: 01 – Anno 1983 – Trascrizione: Francesco Fiorentini
Il progetto RetroLiPS non é solo l'occasione per riscoprire macchine poco conosciute e giochi e/o riviste dimenticati ma anche l'occasione per provare emulatori mai utilizzati (personalmente non avevo mai utilizzato XRoar) e familiarizzare con altri dialetti Basic.
Questa volta ho voluto digitare un programma in Basic per il Dragon32/64. Un breve RPG che é sicuramente una piccola gemma che meritava di essere riportata in vita: Valley of Death.
Se volete saperne di piu' riguardo al Dragon 32/64, potete leggere una breve descrizione nella pagina dedicata su Wikipedia in italiano e una descrizione piú approfondita in quella inglese.
Il listato originale di Valley of Death e' invece stato pubblicato sulla rivista Micro Adventurer numero 01 di Novembre 1983, edita da Sunshine Books Ltd nel Regno Unito.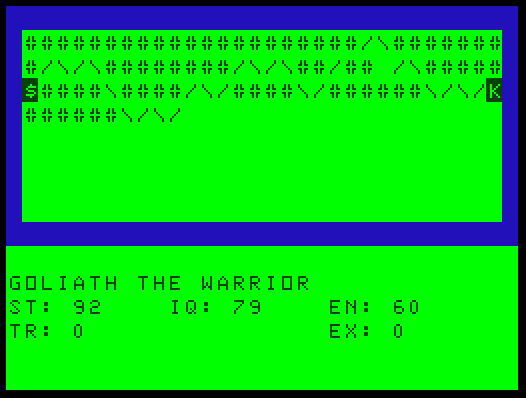 Scopo del gioco
Valley Of Death consiste nel guidare un personaggio (rappresentato dal simbolo del $) in una piccola valle. Devi aiutarlo a combattere mostri, viaggiare attraverso paludi e foreste, e alla fine portarlo nelle
profondità delle oscure segrete di Darganyon per trovare una chiave. Devi poi correre indietro attraverso i sotterranei, tornare al Palazzo per aprire un forziere e recuperare una pozione magica per curare il tuo Re!
Qui di seguito trovate il codice da copiare sul vostro computer Dragon 32/64.
Il codice é pronto per essere eseguito su un emulatore, consigliamo XRoar.

Per caricare il codice sull'emulatore XRoar:
– salvate il listato in un file .bas
– da File -> Cassette -> Input Tape… scegliete il file .bas
– digitate il comando: CLOAD
– una volta terminato il caricamento, digitate RUN per eseguire il gioco
Chi volesse provare il gioco direttamente puó scaricare il file .bas, (si veda la voce Download).
Istruzioni
All'inizio del gioco dovrete scegliere la classe del vostro personaggio da una lista di 4: Guerriero, Chierico, Barbaro e Mago. La scelta non é fine a se stessa, in quanto in base alla classe avrete a disposizione caratteristiche diverse che influenzeranno le azioni durante il gioco. Dopodiché dovrete dare un nome al vostro personaggio, se non lo farete, verrá automaticamente nominato Mr. X.
A questo punto il gioco comincia e potrete iniziare a vagare per la Valle della Morte in cerca della chiave. Per spostarvi dovete utilizzare i seguenti tasti:


Durante il vostro girovagare vi imbatterete in un numero variabile di mostri, il cui unico scopo é quello di divorarvi. Ad eccezione del Chierico, che puó allontanarsi dai mostri non morti, in tutti gli altri casi dovrete per forza sconfiggere il nemico prima di proseguire nella vostra missione. Per sferrare l'attacco, dovrete premere il pulsante H (hit) in un determinato lasso di tempo quando é il vostro turno di colpire. Attenzione, i mostri sono particolarmente fortunati nello sferrare i colpi. Buona fortuna!!!

Attenzione – Ci siamo resi conto che nel listato i caratteri '>' e '<' potrebbero venir sostituiti dai rispettivi encoding html '&gt' e '&lt'. Nel caso, sostituite questi valori nel listato prima di copiarlo sull'emulatore.
Listato: Valley of Death – Dragon32/64 – Basic




1
2
3
4
5
6
7
8
9
10
11
12
13
14
15
16
17
18
19
20
21
22
23
24
25
26
27
28
29
30
31
32
33
34
35
36
37
38
39
40
41
42
43
44
45
46
47
48
49
50
51
52
53
54
55
56
57
58
59
60
61
62
63
64
65
66
67
68
69
70
71
72
73
74
75
76
77
78
79
80
81
82
83
84
85
86
87
88
89
90
91
92
93
94
95
96
97


10

 

CLS

 


70

 ST

=

RND

(

9

)

+

RND

(

9

)

+

RND

(

9

)

:IQ

=

RND

(

9

)

+

RND

(

9

)

+

RND

(

9

)

 


80

 EN

=

RND

(

9

)

+

RND

(

9

)

+

RND

(

9

)

:ST

=

ST

*

5

:IQ

=

IQ

*

5

:EN

=

EN

*

6

 


90

 

PRINT

"1) WARRIOR"

:

PRINT

"2) CLERIC"

:

PRINT

"3) BARBARIAN"

 


100

 

PRINT

"4) WIZARD"

:

INPUT

"WHICH ONE (1-4)"

;A 


110

 IFA

<

1ORA

>

4THENCL$

=

"FOOL"

;IQ

=

IQ

-

RND

(

10

)

 


120

 IFA

=

1THENCL$

=

"WARRIOR"

:ST

=

ST

+

RND

(

ST

)

:IQ

=

IQ

+

RND

(

10

)

 


130

 IFA

=

2THENCL$

=

"CLERIC"

:IQ

=

IQ

+

RND

(

10

)

*

2

 


140

 IFA

=

3THENCL$

=

"BARBARIAN"

:IQ

=

IQ

-

RND

(

5

)

:ST

=

ST

+

RND

(

ST

)

 


150

 IFA

=

3THENEN

=

EN

+

RND

(

ST

)

 


160

 IFA

=

4THENCL$

=

"WIZARD"

:IQ

=

IQ

+

RND

(

15

)

*

2

:EN

=

EN

+

RND

(

5

)

 


170

 

INPUT

"NAME"

;

NAME

$ 


180

 IFNAME$

=

""

THENNAME$

=

"MR. 'X'"




190

 

CLS

 


200

 PRINTSTRING$

(

32

,

175

)

;:FORN

=

0TO7:PRINTCHR$

(

175

)

; 


210

 PRINTSTRING$

(

30

,

32

)

;

CHR

$

(

175

)

;:

NEXT

 


220

 PRINTSTRING$

(

32

,

175

)

 


230

 A$

(

1

)

=

CHR

$

(

175

)

+

"#####################/\#######"

+

CHR

$

(

175

)

 


240

 A$

(

2

)

=

CHR

$

(

175

)

+

"#/\/\########/\/\##/## /\#####"

+

CHR

$

(

175

)

 


250

 A$

(

3

)

=

CHR

$

(

175

)

+

"p####\####/\/####\/######\/\/k"

+

CHR

$

(

175

)

 


260

 A$

(

4

)

=

CHR

$

(

175

)

+

"######\/\/"

+

STRING

$

(

20

,

32

)

+

CHR

$

(

175

)

 


270

 J

=

RND

(

5

)

*

32

:

PRINT

@J,A$

(

1

)

;:PRINTA$

(

2

)

;:PRINTA$

(

3

)

; 


280

 PRINTA$

(

4

)

; 


360

 

PRINT

@352,

NAME

$;

" THE "

;CLASS$ 


370

 

PRINT

@384,

"ST:"

;ST;TAB

(

10

)

;

"IQ:"

;IQ;TAB

(

20

)

;

"EN:"

; 


380

 PRINTEN;:

PRINT

@416,

"TR:"

;TR;TAB

(

20

)

;

"EX:"

;EX; 


530

 

GOSUB

 

2300

 


2300

 A$

=

INKEY

$:IFA$

=

""

THEN2300 


2310

 IFA$

=

"R"

THEND

=-

33

 


2320

 IFA$

=

"T"

THEND

=-

32

 


2330

 IFA$

=

"Y"

THEND

=-

31

 


2340

 IFA$

=

"F"

THEND

=-

1

 


2350

 IFA$

=

"H"

THEND

=

1

 


2360

 IFA$

=

"C"

THEND

=

31

 


2370

 IFA$

=

"V"

THEND

=

32

 


2380

 IFA$

=

"B"

THEND

=

33

 


2450

 

RETURN

 


30

 MAN

=

1056

:Z

=

16

 


410

 MAN

=

MAN

+

J

+

33

 


440

 

POKE

 MAN,

36

 


560

 IFPEEK

(

MAN

+

D

)

=

111ORPEEK

(

MAN

+

D

)

=

92THENMAN

=

MAN

+

D:

POKE

 MAN

-

D,Z:PATH

=

1

:Z

=

PEEK

(

MAN

)

:GOTO660 


570

 IFPEEK

(

MAN

+

D

)

=

11THENMAN

=

MAN

+

D:POKEMAN

-

D,Z:CASTLE

=

1

:Z

=

 

PEEK

(

MAN

)

:GOTO660 


580

 IFPEEK

(

MAN

+

D

)

=

16THENMAN

=

MAN

+

D:POKEMAN

-

D,Z:PL

=

1

:Z

=

PEEK

(

MAN

)

:GOTO660 


650

 IFPEEK

(

MAN

+

D

)

<>

175THENMAN

=

MAN

+

D:POKEMAN

-

D,Z:Z

=

PEEK

(

MAN

)

 


790

 GOTO440 


660

 IFZ

<>

11THENCASTLE

=

0

 


670

 IFZ

<>

16THENPL

=

0

 


680

 IFZ

<>

92ANDZ

<>

111THENPATH

=

0

 


700

 

PRINT

@320,

" "

 


710

 IFPATH

=

1THENPRINT@320,

"SAFE ON PATH"

 


720

 IFCASTLE

=

1THENPRINT@320,

"SAFE IN KEEP"

 


750

 IFPL

=

1THENPRINT@320,

"SAFE IN PALACE"

 


390

 

IF

 U

=

1

 

THEN

 

RETURN

 


400

 U

=

1

 


490

 

GOSUB

 

360

 


540

 E

=

E

+

1

:IFE

=

10THENEN

=

EN

-

1

:E

=

0




40

 PL

=

1

 


500

 IFRND

(

4

)

=

2ANDDEAD

=

0ANDCASTLE

=

0ANDPATH

=

0ANDPL

=

0THENGOSUB2770 


2770

 SOUND100,

5

:SOUND100,

6

:

RESTORE

:IFEX

<

2000ANDTW

=

0THEN FORN

=

0TORND

(

19

)

:READMONSTER$,HITS:

NEXT

 


2780

 M

=

0

 


2790

 IFEX

>=

2000ORTW

=

1THENFORN

=

0TORND

(

19

)

+

20

:READMONSTER$,HITS:

NEXT

 


2810

 FORN

=

1TOLEN

(

MONSTER$

)

:

MID

$

(

MONSTER$,N,

1

)

=

CHR

$

(

ASC

(

MID

$

(

MONSTER$,N,

1

)

)

+

32

)

:IFMID$

(

MONSTER$,N,

1

)

=

"@"

THENMID$

(

MONSTER$,N,

1

)

=

CHR

$

(

128

)

:

NEXT

:MONSTER$;


2820

 

PRINT

@320,

"YOU HAVE MET A "

;MONSTER$; 


2830

 IFCLASS$

=

"CLERIC"

AND

(

MONSTER$

=

"mummy"

ORMONSTER$

=

"wraith"

ORMONSTER$

=

"spectre"

)

ANDRND

(

3

)

=

2THENYZ

=

1

 


2840

 IFYZ

=

1THENFORN

=

0TO2000:

NEXT

:

PRINT

@320,

"BUT YOU TURN IT AWAY!"

:FORN

=

0TO2000:

NEXT

:

PRINT

@320,

" "

:EX

=

EX

+

H:YZ

=

0

:

RETURN




2850

 HITS

=

HITS

+

RND

(

INT

(

HITS

/

2

)

)

:IFHITS

<

INT

(

EN

/

2

)

THEN2850 


2860

 H

=

HITS


2870

 FORN

=

0TO1000:

NEXT




2880

 

PRINT

@448,

"strike"

;

CHR

$

(

128

)

;

"now"

 


2890

 SOUND50,

2

 


2900

 A$

=

INKEY

$ 


2910

 

PRINT

@480,

STRING

$

(

28

,

32

)

; 


2920

 

PRINT

@480,

"THE MONSTER HAS"

;HITS;

"ENERGY   "

; 


2930

 FORN

=

0TO300:A$

=

INKEY

$:IFA$

<>

""

THEN2960:ELSENEXT:

PRINT

@448,

"too"

;

CHR

$

(

128

)

;

"slow"

:FORN

=

0TO2000:

NEXT

:

PRINT

@448,

" "

:GOTO2990


2960

 IFA$

=

"H"

ANDRND

(

2

)

=

2THENG

=

RND

(

EN

)

+

RND

(

ST

)

*

SD:

PRINT

@448,

"you"

;

CHR

$

(

128

)

;

"hit"

:FORN

=

0TO2000:

NEXT

:

PRINT

@448,G;

"DAMAGE!"

;:FORN

=

0TO3000:

NEXT

:YZ

=

1




2970

 IFYZ

=

1THENYZ

=

0

:

PRINT

@448,

" "

:HITS

=

HITS

-

G:ELSEIFA$

=

"H"

THENPRINT@448,

"you"

;

CHR

$

(

128

)

;

"missed"

:FORN

=

0TO2000:

NEXT

:

PRINT

@448,

STRING

$

(

30

,

32

)

;:YZ

=

0




2980

 IFG

>

0THENSOUND150,

2

:G

=

0

:ELSESOUND200,

2

 


2990

 

PRINT

@480,

"THE MONSTER HAS"

;HITS;

"ENERGY   "

; 


3000

 IFHITS

<=

0THEN3110 


3010

 SOUND200,

2

:

PRINT

@448,

"the"

;

CHR

$

(

128

)

;

"monster"

;

CHR

$

(

128

)

;

"strikes"

:FORN

=

0TO2000:

NEXT

:

PRINT

@448,

" "

 


3020

 IFRND

(

2

)

=

1THENM

=

RND

(

HITS

)

:

PRINT

@448,

"and"

;

CHR

$

(

128

)

;

"hits"

;:SOUND10,

2

:FORN

=

0TO2000:

NEXT

:ELSEPRINT@448,

"and"

;

CHR

$

(

128

)

;

"misses"

;:SOUND50,

2

:YZ

=

1

 


3030

 IFYZ

=

1THENFORN

=

0TO2000:

NEXT

:

PRINT

@448,

" "

:YZ

=

0

 


3040

 EN

=

EN

-

M 


3050

 IFM

>

0THENPRINT@448,

"DOING"

;M;

"DAMAGE!"

;:FORN

=

0TO2000:

NEXT

:

PRINT

@448,

" "

 


3060

 GOSUB360 


3070

 M

=

0

 


3080

 IFEN

<=

0THEN3770 


3100

 HITS

=

HITS

-

1

:EN

=

EN

-

1

:GOTO2880 


3110

 

PRINT

@448,

" "

:

PRINT

@480,

STRING

$

(

31

,

32

)

;:

PRINT

@320,

"YOU'VE KILLED IT!"

:FORN

=

225TO250:SOUNDN,

1

:

NEXT

:EX

=

EX

+

H:EN

=

EN

+

RND

(

INT

(

H

/

2

)

)

 


3120

 FORN

=

0TO2000:

NEXT

:

PRINT

@320,

" "

:IFEN

>

400THENEN

=

EN

-

RND

(

INT

(

H

/

2

)

)

:

RETURN

:ELSERETURN 


3200

 

DATA

"BANDIT"

,

20

,

"BERSERKER"

,

20

,

"BUGBEAR"

,

60

,

"CARRION CRAWLER"

,

60

,

"COCKATRICE"

,

100

,

"DWARF"

,

20

,

"DOPPLEGANGER"

,

80

,

"ELF"

,

20

,

"FIRE BEETLE"

,

20

 


3210

 

DATA

"GARGOYLE"

,

80

,

"GELATINUS CUBE"

,

80

,

"GIANT ANT"

,

40

, 

"GIANT CENTIPEDE"

,

5

,

"GIANT RAT"

,

10

,

"GNOLL"

,

40

,

"GNOME"

,

10

,

"GOBLIN"

,

10

,

"GREY OOZE"

,

60

 


3220

 

DATA

"HIPPOGRIFF"

,

65

,

"HOBGOBLIN"

,

15

,

"BLACK PUDDING"

,

200

,

"CHIMERA"

,

180

,

"DJINNI"

,

145

,

"DRAGON"

,

220

,

"GIANT"

,

200

,

"GRIFFON"

,

140

,

"HYDRA"

,

160

 


3230

 

DATA

"WEREBEAR"

,

120

,

"MANTICORE"

,

125

,

"MINOTAUR"

,

120

,

"MUMMY"

,

105

,

"OGRE"

,

120

,

"OWL BEAR"

,

110

,

"PURPLE WORM"

,

300

 


3240

 

DATA

"SPECTRE"

,

120

,

"TROLL"

,

130

,

"VAMPIRE"

,

180

,

"WIGHT"

,

60

,

"WRAITH"

,

80

,

"HELL HOUND"

,

140

 


3770

 

PRINT

@320,

"YOU'RE DEAD!"

:IFK

=

1THEN3770 


3780

 

PLAY

"O1V31T2L4GGL8GGL4B-AAGGF+G"

:K

=

1

:GOTO3770