Granada – The Oric Book of Games – Anno 1984 – Trascrizione: Fernando Coello
Continua il lavoro di trascrizione di Fernando Coello. Questa volta ci ha inviato un simpatico gioco del golf, anche questo scritto in Basic, per un'altra macchina ad 8bit del passato, l'ORIC.
Se volete saperne di piu' riguardo all'ORIC, una macchina poco conosciuta in Italia, vi consiglio di leggervi gli articoli "Un fantasmagORICo home computer" parte 1 e 2, apparsi sui numeri 10 ed 11 della nostra rivista a firma di David La Monaca.
Il listato originale di Nine Hole Golf e' invece stato pubblicato sul libro The Oric Book of Games del 1984, edito da Granada Publishing.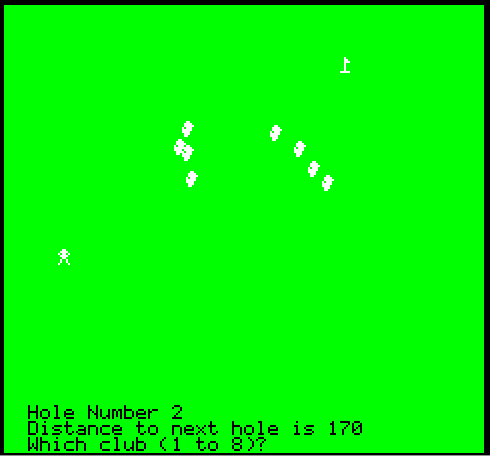 Titolo: Nine Hole Golf
Piattaforma: ORIC
Linguaggio: Basic
Versione originale: ???
Pubblicazione: Granada – The Oric Book of Games
Anno: 1984
Trascrizione: Fernando Coello
Anno: 2021
Download: Nine Hole Golf
Note: Emulatore suggerito, Oricutron.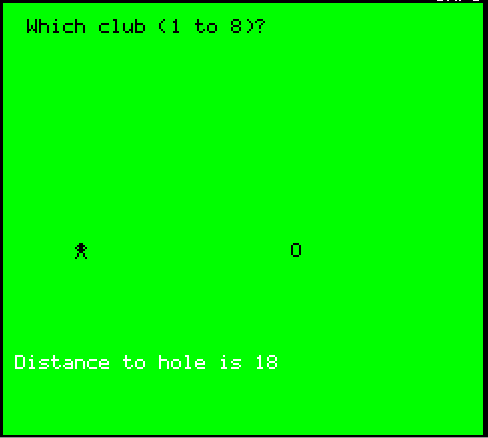 Scopo del gioco
Questo è un gioco di grafica che combina il percorso di avvicinamento alla buca e il gioco sul green, includendo anche il pericolo dei bunker. Si gioca su un percorso di nove buche con due fasi per ogni buca – il percorso e il green. Da notare, nella prima fase, il golfista che fa il suo swing e come la palla voli in aria.
Qui di seguito trovate il codice da copiare sul vostro computer Oric.
Il codice é pronto per essere copiato su un emulatore, consigliamo Oricutron.
Per caricare il codice sull'emulatore, una volta copiato il codice sottostante nella clipboard, pulsante destro e quindi Paste from Clipboard.
Istruzioni
All'inizio di ogni buca ti viene comunicata la distanza dalla buca – segnata sullo schermo da una bandiera – e ti viene chiesto di selezionare quale mazza usare. Se hai mai giocato a golf, o l'hai visto in TV, saprai che più basso è il numero della mazza, più lontano verra' spedita la palla. In altre parole, seleziona il ferro 1 per un tiro lungo e il ferro 8 per i colpi ravvicinati. Se atterri in un bunker scoprirai che il tuo prossimo colpo non sara' così efficace come lo sarebbe normalmente.
Se superi il green avrai un nuovo tentativo di buca, ma se spingi la palla fuori dallo schermo, perdi la buca e passi a quella successiva. Una volta che sei abbastanza vicino alla buca ti ritroverai sul green. Un messaggio ti dirà quanto lontano sei dalla buca e ti chiederà di selezionare la mazza appropriata. Se oltrepassi la buca, dovrai continuare a tirare fino a quando la tua pallina non entra in buca. Il tuo punteggio per ogni buca viene visualizzato alla fine di ognuna di esse e una scheda di punteggio per tutte le nove buche viene visualizzata alla fine di ogni giro.
Chi volesse provare il gioco direttamente puó scaricare il file SNA, uno snapshot (si veda la voce Download).
Una volta avviato l'emulatore, pulsante destro e Load Snapshot...
Attenzione – Ci siamo resi conto che nel listato i caratteri '>' e '<' potrebbero venir sostituiti dai rispettivi encoding html '&gt' e '&lt'. Nel caso, sostituite questi valori nel listato prima di copiarlo sull'emulatore.
Listato: Nine Hole Golf – Oric – Basic




1
2
3
4
5
6
7
8
9
10
11
12
13
14
15
16
17
18
19
20
21
22
23
24
25
26
27
28
29
30
31
32
33
34
35
36
37
38
39
40
41
42
43
44
45
46
47
48
49
50
51
52
53
54
55
56
57
58
59
60
61
62
63
64
65
66
67
68
69
70
71
72
73
74
75
76
77
78
79
80
81
82
83
84
85
86
87
88
89
90
91
92
93
94
95
96
97
98
99
100
101
102
103
104
105
106
107
108
109
110
111
112
113
114
115
116
117
118
119
120
121
122
123
124
125
126
127
128
129
130
131
132
133
134
135
136
137
138
139
140
141
142
143
144
145
146
147
148


10

 

REM Golf




20

 CH

=

46080




30

 

FOR

 Q

=

1

 

TO

 

3




40

 

READ

 C


50

 

FOR

 I

=

0

 

TO

 

7




60

 

READ

 D


70

 

POKE

 CH

+

C

+

I,D


80

 

NEXT

 I


90

 

NEXT

 Q


100

 

DATA

 

264

,

8

,

12

,

14

,

8

,

8

,

8

,

8

,

62




110

 

DATA

 

512

,

12

,

30

,

45

,

30

,

12

,

18

,

18

,

33




120

 

DATA

 

280

,

12

,

30

,

31

,

46

,

62

,

60

,

28

,

24




130

 

DIM

 T

(

9

)




140

 XH 

=

0

:XC

=

0




150

 YH

=

0

:HT

=

0

:YC

=

0




170

 

FOR

 H

=

1

 

TO

 

9




180

 HIRES


190

 PAPER 

2

: INK 

7




200

 

PRINT

 

"Hole Number "

;H


220

 

FOR

 Z

=

1

 

TO

 

8




230

 XB

=

INT

(

RND

(

1

)

*

80

)

+

80




240

 YB

=

INT

(

RND

(

1

)

*

40

)

+

50




250

 CURSET XB,YB,

0




260

 CHAR 

35

,

0

,

1




270

 

NEXT

 Z


300

 X

=

INT

(

RND

(

1

)

*

20

)

+

20




310

 Y

=

INT

(

RND

(

1

)

*

30

)

+

120




320

 XT

=

INT

(

RND

(

1

)

*

50

)

+

150




330

 YT

=

INT

(

RND

(

1

)

*

10

)

+

20




340

 D

=

SGN

(

XT

-

X

)

*

SQR

(

(

XT

-

X

)

*

(

XT

-

X

)

+

(

YT

-

Y

)

*

(

YT

-

Y

)

)




350

 CURSET XT,YT,

0




360

 CHAR 

33

,

0

,

1




370

 CURSET X,Y,

0




380

 CHAR 

64

,

0

,

1




400

 

PRINT

 

"Distance to next hole is "

;

INT

(

D

)




410

 

INPUT

 

"Which club (1 to 8)"

;C


420

 

IF

 C

<

1

 

OR

 C

>

8

 

THEN

 

GOTO

 

420




430

 C

=

(

9

-

C

)




440

 

GOSUB

 

1160




480

 

GOSUB

 

800




490

 B

=

1




500

 D

=

SGN

(

XT

-

X1

)

*

SQR

(

(

XT

-

X1

)

*

(

XT

-

X1

)

+

(

YT

-

Y1

)

*

(

YT

-

Y1

)

)




510

 

IF

 D

<-

15

 

THEN

 

PRINT

 

"You overshot-try another hole"

:

WAIT

 

100

:

GOTO

 

180




520

 

IF

 D

<

12

 

THEN

 

PRINT

 

"ON THE GREEN"

:

WAIT

 

200

:

GOTO

 

1320




530

 CURSET X1,Y1,

0




540

 CHAR 

46

,

0

,

0




550

 CURSET X,Y,

0




560

 CHAR 

64

,

0

,

0




570

 X

=

X1


580

 Y

=

Y1


590

 

GOTO

 

350




640

 

PRINT

 

"You took "

;T

(

H

)

;

" strokes"




650

 

WAIT

 

200

:

PRINT

 

CHR

$

(

17

)




660

 

NEXT

 H


670

 

CLS




680

 

PRINT

:

PRINT




690

 

PRINT

 

SPC

(

15

)

;

"This Round"




700

 COL

=

1

:R0W

=

5

:

GOSUB

 

1700




720

 

FOR

 I

=

1

 

TO

 

9




730

 

PRINT

 

SPC

(

10

)

;

"Hole "

;I;


740

 

IF

 T

(

I

)

=-

1

 

THEN

 

PRINT

 

" lost ball"

:

GOTO

 

760




750

 

PRINT

 

" "

;T

(

I

)

;

" strokes"




760

 

NEXT

 I


765

 ROW

=

20

:COL

=

5

:

GOSUB

 

1700




770

 

INPUT

 

"Another round Y/N"

;A$


775

 

PRINT

 

CHR

$

(

17

)




780

 

IF

 A$ 

=

 

"Y"

 

THEN

 

RUN




790

 

CLS

 : 

STOP




800

 VT

=

C

*

(

1

+

RND

(

1

)

*

.01

)




810

 HT

=

0




820

 XH

=

0




840

 Q

=

(

Y

-

YT

)

/

(

XT

-

X

)




850

 VV

=-

VT

*

(

SIN

(

45

*

PI

/

180

)

)




860

 XC

=

X

+

3




870

 YC

=

Y

+

3




880

 VH

=

VT

*

(

COS

(

45

*

PI

/

180

)

)




890

 HT

=

HT

+

VV


900

 YH

=

Q

*

XH


910

 VV

=

VV

+

1




920

 XH

=

XH

+

VH


930

 YH

=-

Q

*

XH


940

 

IF

 XH

+

XC

>

250

 

THEN

 

GOTO

 

1100




950

 

IF

 YH

+

HT

+

YC

<

0

 

THEN

 

GOTO

 

1100




960

 

IF

 HT

>=

0

 

THEN

 

GOTO

 

1040




970

 CURSET XH

+

XC,YH

+

HT

+

YC,

0




980

 CHAR 

46

,

0

,

1




1000

 

WAIT

 

3




1010

 CURSET XH

+

XC,YH

+

HT

+

YC,

0




1020

 CHAR 

46

,

0

,

0




1030

 

GOTO

 

890




1040

 X1

=

XH

+

XC


1050

 Y1

=

YH

+

HT

+

YC


1070

 CURSET X1,Y1,O


1080

 CHAR 

46

,

0

,

1




1090

 

RETURN




1100

 YH

=

0

:YT

=

0

:YC

=

0

:XH

=

0

:XC

=

0




1110

 

PRINT

 

"You've lost your ball "




1120

 PING


1130

 T

(

H

)

=-

1




1140

 

WAIT

 

300




1150

 POP:

GOTO

 

660




1160

 T

(

H

)

=

T

(

H

)

+

1




1170

 XS

=

X

+

4




1180

 YS

=

Y

+

4




1190

 

FOR

 S

=-

5

 

TO

 

-

40

 

STEP

 

-

5




1200

 A

=

S

/

30

*

PI


1210

 SX

=

10

*

SIN

(

A

)




1220

 SY

=-

10

*

COS

(

A

)




1230

 CURSET XS,YS,

0




1240

 

DRAW

 SX,SY,

2




1250

 

IF

 SO

<>-

30

 

THEN

 

WAIT

 

10




1260

 

IF

 S

=-

30

 

THEN

 PING


1270

 CURSET XS,YS,

0




1280

 

DRAW

 SX,SY,

2




1300

 

NEXT

 S


1310

 

RETURN




1320

 TEXT:

PRINT

 

CHR

$

(

17

)




1330

 PAPER 

2




1340

 XG

=

INT

(

RND

(

1

)

*

5

)

+

1




1350

 YG

=

15




1360

 XH

=

INT

(

RND

(

1

)

*

15

)

+

10




1370

 YH

=

15




1380

 D

=

XH

-

XG


1390

 

IF

 D

<

0

 

THEN

 D

=

ABS

(

D

)




1400

 PLOT XH,YH,

"O"




1410

 PLOT XG,YG,

"@"




1420

 R0W

=

22

:C0L

=

1

:

GOSUB

 

1700




1440

 

PRINT

 

"Distance to hole is "

;D;

"   "




1450

 

INPUT

 

"Which club (1 to 8)"

;C


1460

 

IF

 C

<

1

 

OR

 C

>

8

 

THEN

 

GOTO

 

1450




1470

 T

(

H

)

=

T

(

H

)

+

1




1480

 H1

=

8

-

C

+

INT

(

RND

(

1

)

*

2

)




1485

 

IF

 D

=

1

 

AND

 C

=

8

 

THEN

 H1

=

1




1490

 D

=

D

-

H1


1500

 

FOR

 Z

=

XG

+

1

 

TO

 XG

+

H1


1510

 PLOT Z,YH,

"."




1520

 

WAIT

 

10




1530

 PLOT Z,YH,

" "




1540

 

NEXT

 Z


1550

 PLOT XG,YG,

" "




1560

 XG

=

XG

+

H1


1570

 

IF

 XG

=

XH 

THEN

 

GOTO

 

640




1580

 

IF

 D

<

0

 

THEN

 

CLS

:XG

=

XH

+

D:

GOTO

 

1380




1590

 

GOTO

 

1400




1700

 DOKE #

12

,

48040

+

R0W

*

40

+

COL

-

1




1710

 

POKE

 #

268

,ROW

+

1




1720

 

POKE

 #

269

,COL

/

2




1730

 

RETURN