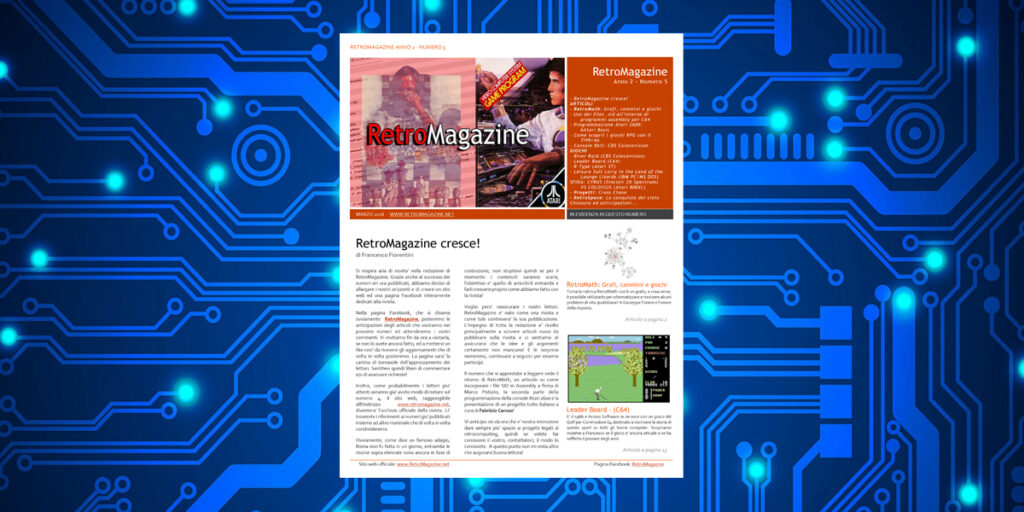 Editoriale di Francesco Fiorentini
Si respira aria di novita' nella redazione di RetroMagazine. Grazie anche al successo dei numeri sin orapubblicati,abbiamo deciso di allargare i nostri orizzonti e di creare un sito web ed una pagina Facebook interamente dedicati alla rivista. Nella pagina Facebook, che si chiama ovviamente RetroMagazine, posteremo le anticipazioni degli articoli che usciranno nei prossimi numeri ed attenderemo i vostri commenti. Vi invitiamo fin da ora a visitarla, se non lo avete ancora fatto, ed a mettervi un like cosi' da ricevere gli aggiornamenti che divolta in volta posteremo.La pagina sara' la cartina di tornasole dell'apprezzamento dei lettori. Sentitevi quindi liberi di commentare e/o di avanzare richieste!
Sommario
RetroMagazine cresce!
ARTICOLI
RetroMath: Grafi, cammini e giochi
Uso dei files .sid all'interno di programmi assembly per C64
Programmazione Atari 2600 : bAtari Basic
Come scoprii i giochi RPG con Il TI 99/4A
Console 8 bit: CBS Colecovision
GIOCHI
River Raid (CBS Colecovision)
Leader Board (C64)
R-Type ( Atari ST)
Leisure Suit Larry in the Land of the Lounge Lizards (PC /MS DOS)
SFIDA: CYRUS (Sinclair ZX Spectrum ) VS COLOSSUS (Atari 800 XL)
Progetti: Cross Chase
Retro Space: La conquista del cielo
Chiusura ed anticipazioni. . .