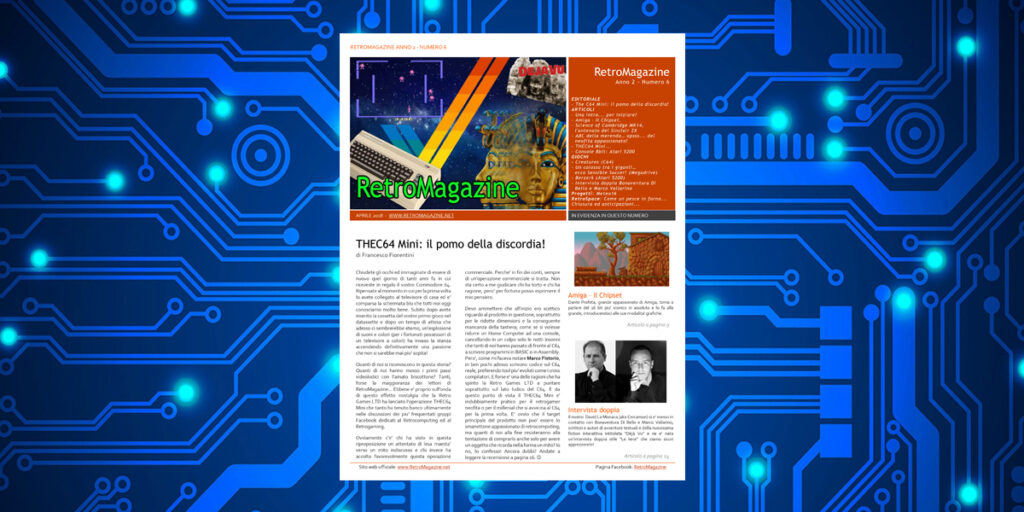 Editoriale di Francesco Fiorentini
Chiudete gli occhi ed immaginate di essere di nuovo quel giorno di tanti anni fa in cui riceveste in regalo il vostro Commodore 64. Ripensate al momento in cui per la prima volta lo avete collegato al televisore di casa ed e' comparsa la schermata blu che tutti noi oggi conosciamo molto bene. Subito dopo avete inserito la cassetta del vostro primo gioco nel datassette e dopo un tempo di attesa che adesso ci sembrerebbe eterno, un'esplosione di suoni e colori (per i fortunati possessori di un televisore a colori) ha invaso la stanza accendendo definitivamente una passione che non si sarebbe mai piu' sopita!
Sommario
EDITORIALE
The C64 Mini: il pomo della discordia!
ARTICOLI
Una intro. . . per iniziare!
Amiga – Il Chipset.
Science of Cambridge MK 14, l'antenato dei Sinclair ZX
ABC della merenda… opsss… del neofita appassionato!
THEC64 Mini. . .
Console 8 bit: Atari 5200
GIOCHI
Creatures(C64)
Un colosso tra i giganti… ecco Sensible Soccer! (Megadrive)
Berzerk (Atari 5200)
Intervista doppi a Bonaventura DiBello e Marco Vallarino
Progetti: Meteo16
RetroSpace: Come un pesce in forno…
Chiusura ed anticipazioni . . .