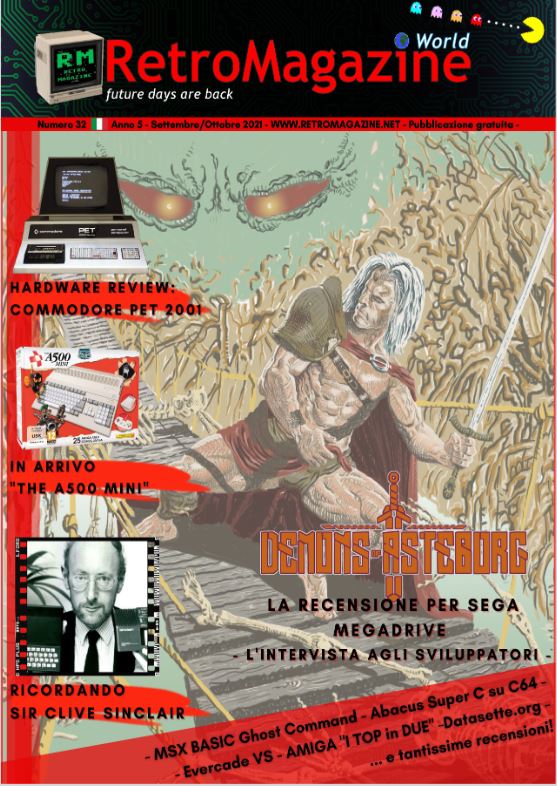 Hanno collaborato alla stesura di questo numero di RetroMagazine World (in ordine sparso):
Alberto Apostolo
Marco Pistorio
Carlo N. Del Mar Pirazzini
Daniele Brahimi
Mic the Biker Novarina
Francesco Fiorentini
David La Monaca
Leonardo Miliani
Giuseppe Rinella
Christian Miglio
Ermanno Betori
Roberto Del Mar Pirazzini
Michele Iurillo
Gianluca Girelli
Parsec 99
Stefano Bodrato
Immagine di copertina: Giuseppe Mangini
Layout di copertina: Carlo N. Del MarPirazzini
Editoriale di Francesco Fiorentini
Scrivere l'editoriale non è mai semplice. A volte gli argomenti fioccano che é un piacere, altre volte invece devi pensarci a lungo per trovare una traccia interessante. Per questo spesso ci alterniamo, ognuno di noi ha qualcosa da dire e l'editoriale e la quarta di copertina sono gli strumenti per dare voce ai nostri
pensieri, lontano dai tecnicismi degli altri articoli. Questa volta avrei voluto parlare delle tante iniziative editoriali che sono sorte e/o risorte in quest'ultimo periodo, ma più ci pensavo e più mi rendevo conto che ancora non avevo trovato la giusta chiave narrativa, meglio rimandare ai prossimi numeri… La folgorazione è arrivata questo pomeriggio, quando ho ricevuto ed impaginato l'articolo per la quarta di copertina firmato da Mic the Biker Novarina.
Sommario:
Philips Microprocessor Development System PDMS II
Commodore PET 2001
Primo sguardo a EVERCADE VS – tutto quello che dovete sapere
TheA500 Mini – Un condensato di pura felicità
MAXIM, la sala giochi dal 1990 – Parte 1
Intervista ai creatori di Demons of Asteborg
MSX BASIC the ghost command… parte prima
Abacus Super C – Il linguaggio C sul Commodore 64
RetroMath: Calcolo della funzione sin(x) per uomini "duri e puri"
Commodore C128 – Analisi di un "Easter Egg"
Master Mind su PICO
EnigmA Story 2a puntata: primi passi primi incontri
La bocciofila di RetroMagazine
Bunker! – Breve storia della paternità di un tool pirata
Datassette.org retrocomputing brasileiro
Thunderflash by Seep
ListAmiga – I 5(+1) giochi da giocare in doppio
Zorro
The Great Giana Sisters SE (Amiga)
Alex Kidd 3 (MD)
DoReMi Fantasy (SNES)
Gunbeef F-99 (Amiga)
1987 Escape from Berlin (Amiga)
Unholy Night (SNES)
Demons of Asteborg (MD)
Volgarr the Viking (DreamCast)
Delta (C64)
Grazie di tutto Zio Clive!