Rivista: Compute! – Numero: 70 – Anno 1986- Listato di: Philip I. Nelson
Dopo una serie di listati per computer ad 8 bit, eccone finalmente uno per un computer a 16 bit, il Commodore Amiga.
Questa volta vi presento un gioco di strategia che sembra facile inizialmente, ma richiede del tempo per essere padroneggiato perché permette di adottare diverse strategie. Il programma era originalmente scritto per il Commodore 128, questa che vi trovate di fronte é la versione Amiga con parlato, grafica a colori ed effetti sonori stereofonici.
Nella rivista sono presenti altre versioni del gioco per i seguenti computer: Commodore 128, Commodore 64, Apple II, computer Atari a otto bit, IBM PC/PCjr, Atari 520ST ed ovviamente Amiga. Se qualcuno volesse aiutarci digitando uno di questi altri listati, saremmo lieti di ospitarlo nel nostro sito.
Il listato originale é stato pubblicato sulla rivista inglese Compute! Numero 70 del Marzo 1986 – Vol. 8, No. 3.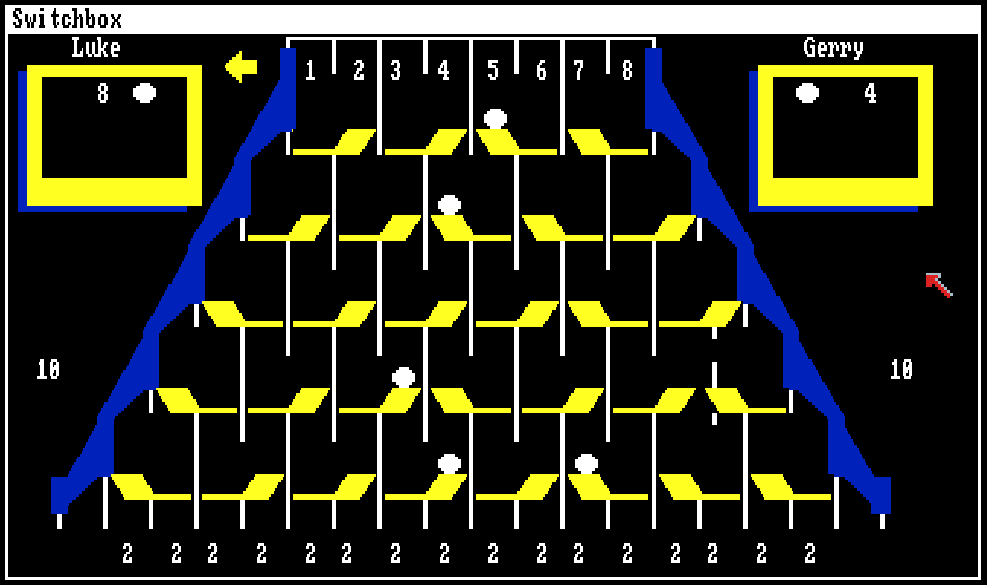 Titolo: Switchbox
Piattaforma: Commodore Amiga
Linguaggio: AmigaBASIC
Versione originale: Philip I. Nelson
Pubblicazione: Compute! Issue 70 March 1986 – Vol. 8, No. 3
Anno: 1986
Trascrizione: Francesco Fiorentini
Anno: 2022
Download: switch.zip contenente il file switch.ADF
Download: SwitchBox.adf.zip ADF bootable contenente AmigaBASIC
Note: Il gioco funziona con l'AmigaBasic di Microsoft e non con l'Abasic. Lo schermo deve essere impostato ad 80 colonne (Prefs -> Preferences)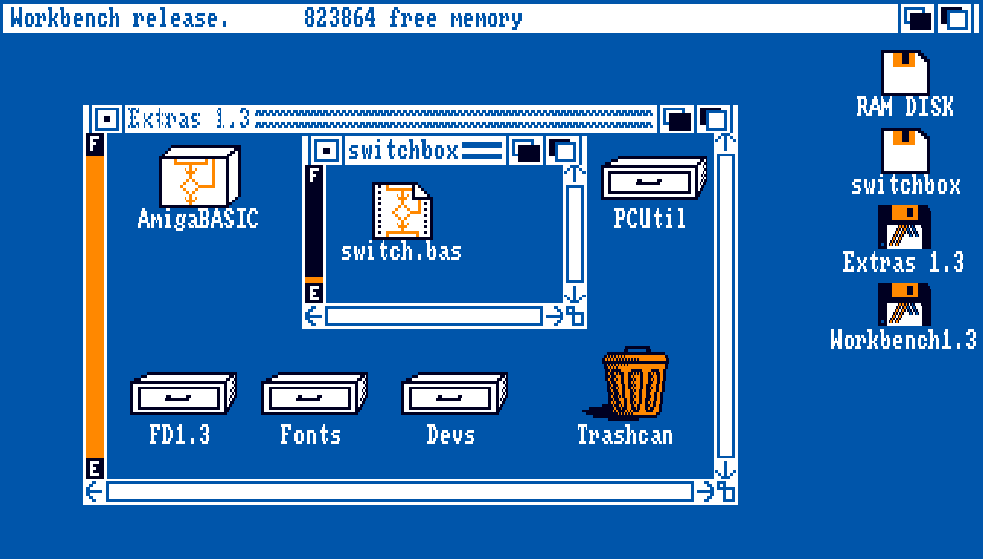 Istruzioni
Utilizzate i tasti numerati dall'1 all'8 per far scendere le palline nei percorsi corrispondenti.
Il tasto '-' (meno) per passare la mano al vostro avversario.
Il tasto '+' (piú) per far cadere una pallina in un percorso random.
Il gioco é inteso per due giocatori umani, il computer non controlla nessuno dei giocatori. Niente vieta comunque di usare il tasto '+' (piú) con un giocatore per farlo giocare in modo casuale.
Buon divertimento!
Giocare a "Switchbox" è come posizionare le tessere di un domino in posizione per una reazione a catena: o le metti in posizione o le fai cadere. Vincere richiede abilità e la pianificazione di quando andare per i punti e quando stare fermi ed aspettare una tavola migliore. L'obiettivo è semplice: devi segnare più punti del tuo avversario facendo cadere le palle in una scatola piena di interruttori a due vie.
Ogni interruttore ha un deviatore e una piattaforma. Se la palla atterra su una piattaforma vuota, si ferma, ma se colpisce un deviatore, inverte l'interruttore e continua. In molti casi far cadere una singola palla crea un effetto a cascata: una palla ne mette in moto un'altra, che ne mette in moto altre, ecc…
Qui di seguito trovate il codice ottimizzato per essere copiato su un file di testo ed essere scritto su un file ADF utilizzando il programma ADF Opus.
Se invece siete ansiosi di provare il gioco su un Amiga reale o su un emulatore, suggerisco WinUAE, scaricate il file switch.zip contenente il file switch.ADF e seguite queste istruzioni:
– Avviate AmigaBASIC (vi ricordo che AmigaBASIC si trova nel disco Extras del Workbench)
– Dal menú Project, scegliete la voce Open
– Nella finestra Name of program to load: digitate df2:switch.bas (df<x> é il drive dell'Amiga dove avete inserito il dischetto, nel mio caso <df2> perché ho usato il terzo drive)
– Attendete il caricamento del programma e poi dal menú Run scegliete la voce Start
Buon divertimento!
PS – Se incontrate difficoltá ad utilizzare ADF Opus, WinUAE o l'AmigaBASIC, scriveteci: saremo lieti di aiutarvi!
Attenzione – Ci siamo resi conto che nel listato i caratteri '>' e '<' potrebbero venir sostituiti dai rispettivi encoding html '&gt' e '&lt'. Nel caso, sostituite questi valori nel listato prima di copiarlo sull'emulatore.
Listato: Switchbox – Commodore Amiga – AmigaBASIC




1
2
3
4
5
6
7
8
9
10
11
12
13
14
15
16
17
18
19
20
21
22
23
24
25
26
27
28
29
30
31
32
33
34
35
36
37
38
39
40
41
42
43
44
45
46
47
48
49
50
51
52
53
54
55
56
57
58
59
60
61
62
63
64
65
66
67
68
69
70
71
72
73
74
75
76
77
78
79
80
81
82
83
84
85
86
87
88
89
90
91
92
93
94
95
96
97
98
99
100
101
102
103
104
105
106
107
108
109
110
111
112
113
114
115
116
117
118
119
120
121
122
123
124
125
126
127
128
129
130
131
132
133
134
135
136
137
138
139
140
141
142
143
144
145
146
147
148
149
150
151
152
153
154
155
156
157
158
159
160
161
162
163
164
165
166
167
168
169
170
171
172
173
174
175
176
177
178
179
180
181
182
183
184
185
186
187
188
189
190
191
192
193
194
195
196
197
198
199
200
201
202
203
204
205
206
207
208
209
210
211
212
213
214
215
216
217
218
219
220
221
222
223
224
225
226
227
228
229
230
231
232
233
234
235
236
237
238
239
240
241
242
243
244
245
246
247
248
249
250
251
252
253
254
255
256
257
258
259
260
261
262
263
264
265
266
267
268
269
270
271
272
273
274
275
276
277
278
279
280
281
282
283
284
285
286
287
288
289
290
291
292
293
294
295
296
297
298
299
300
301
302
303
304
305


'Switchbox for 512K Amiga




'Set Preferences for 80 columns


Restart:


CLEAR

:

GOSUB

 Setup


Main:


FOR

 Round

=

1

 

TO

 

4




PUT

 

(

80

,

7

+

Round

*

8

)

,Ball


PUT

 

(

515

,

7

+

Round

*

8

)

,Ball


GOSUB

 Values


SAY TRANSLATE$

(

Intro$

(

Round

)

)


Keepgoing:


Who

=

1

-

Who 

'alternate players




GOSUB

 Taketurn


IF

 SC

(

1

-

Who,Round

)

=>

Points

(

Round,

0

)

 

THEN

 Nextround


GOTO

 Keepgoing


Nextround:


FOR

 j

=

0

 

TO

 

1

:

FOR

 k

=

5

 

TO

 

8


SC

(

j,k

)

=

0

:

NEXT

:

NEXT




FOR

 j

=

0

 

TO

 

1

:

FOR

 k

=

1

 

TO

 

4


gx

=

Points

(

k,

0

)

:ac

=

SC

(

j,k

)


SC

(

j,

5

)

=

SC

(

j,

5

)

+

ac


SC

(

j,

6

)

=

SC

(

j,

6

)

-

(

ac

=>

gx

)

*

gx


SC

(

j,

7

)

=

SC

(

j,

7

)

+

SC

(

j,k

)

-

SC

(

1

-

j,k

)




NEXT

:

NEXT




FOR

 j

=

0

 

TO

 

1

:

FOR

 k

=

6

 

TO

 

7


SC

(

j,k

)

=

SC

(

j,k

)

+

SC

(

j,

5

)




NEXT

:

NEXT




FOR

 j

=

0

 

TO

 

1

:

FOR

 k 

=

 

5

 

TO

 

7


SC

(

j,

8

)

=

SC

(

j,

8

)

+

SC

(

j,k

)




NEXT

:

NEXT




FOR

 j

=

0

 

TO

 

1




FOR

 k

=

5

 

TO

 

8

:y$

=

STR

$

(

SC

(

j,k

)

)


x

=

LEN

(

y$

)

:tx

=

8

+

j

*

64

-

x:ty

=

4

+

k


LOCATE

 ty,tx

-

1

:

PRINT

 

SPACE

$

(

2

)




LOCATE

 ty,tx:

PRINT

 y$


NEXT

:

NEXT




NEXT

 Round


Gohome:


LINE

 

(

240

,

70

)

-

(

362

,

100

)

,

2

,bf


LOCATE

 

11

,

32

:

PRINT

 

" Play again? "


text$

=

Who$

(

ABS

(

SC

(

1

,

8

)

>

SC

(

0

,

8

)

)

)


text$

=

text$

+

" wins this game..."


text$

=

text$

+

"How about another?"


SAY TRANSLATE$

(

text$

)

,Voice%


FOR

 j

=

0

 

TO

 

10

:x$

=

INKEY

$:

NEXT


Again:


x$

=

INKEY

$:

IF

 x$

=

""

 

THEN

 Again


SAY TRANSLATE$

(

"OK."

)

,Voice%


IF

 x$

=

"y"

 

OR

 x$

=

"Y"

 

THEN

 

WINDOW

 

CLOSE

 

2

:

GOTO

 Restart


SAY TRANSLATE$

(

"Bye-bye."

)

,Voice%


WINDOW

 

CLOSE

 

2




END


Taketurn:


FOR

 j

=

0

 

TO

 nb:LB

(

j,

0

)

=

0

:

NEXT

:nb

=

1


SAY TRANSLATE$

(

Who$

(

Who

)

+

CHR

$

(

46

)

)




PUT

 

(

140

,

5

)

,Larrow:

PUT

 

(

440

,

5

)

,Rarrow


FOR

 j

=

0

 

TO

 

9

:x$

=

INKEY

$:

NEXT


Getkey:


a$

=

INKEY

$:

IF

 a$

=

"-"

THEN

 

RETURN




IF

 a$

=

"+"

 

THEN

 a$

=

STR

$

(

INT

(

RND

(

1

)

*

8

+

1

)

)


a

=

VAL

(

a$

)

:

IF

 

(

a

<

1

)

 

OR

 

(

a

>

8

)

 

THEN

 Getkey


LB

(

0

,

0

)

=

1




FOR

 j

=

1

 

TO

 

3

:LB

(

0

,j

)

=

0

:

NEXT


LB

(

0

,

4

)

=

a

+

3


Moreballs:


ex

=

1

:

FOR

 j

=

0

 

TO

 nb


IF

 LB

(

j,

0

)

 

THEN

 ex

=

0

:

GOSUB

 Moveone


NEXT

:

IF

 ex

=

0

 

THEN

 Moreballs


x

=

0

:

FOR

 j

=

13

 

TO

 

7

 

STEP

 

-

3

:

FOR

 k

=

x 

TO

 

15

-

x


PUT

 

(

Column

(

k

)

,Row

(

j

)

+

1

)

,Blank,

AND




NEXT

:x

=

x

+

1

:

NEXT

:

RETURN


Moveone:


dy

=

LB

(

j,

0

)

:dx

=

LB

(

j,

1

)

:LY

=

LB

(

j,

2

)


ny

=

LB

(

j,

3

)

:nx

=

LB

(

j,

4

)




IF

 ny 

THEN




PUT

 

(

Column

(

nx

)

,Row

(

ny

+

(

LY

*

3

)

)

+

1

)

,Blank,

AND




END

 

IF


LB

(

j,

3

)

=

(

ny

+

1

)

 

MOD

 

3




ON

 ny

+

1

 

GOTO

 Pos0,Pos1,Pos2


Pos0:


IF

 LY

>

4

 

THEN

 LB

(

j,

0

)

=

0

:

GOTO

 Score


vx

=

0

:

GOSUB

 Whichway


IF

 

(

SW

(

wx,wy,

1

)

)

 

AND

 

(

SW

(

wx,wy,

0

)

=

sd

)

 

THEN


vx

=

1

-

2

*

sd:LB

(

j,

3

)

=

ny

+

1

:LB

(

j,

4

)

=

nx

+

vx


GOTO

 Putball


END

 

IF




IF

 SW

(

wx,wy,

0

)

=

sd 

THEN


LB

(

j,

0

)

=

0


SW

(

wx,wy,

1

)

=

1

:ny

=

ny

+

1




GOTO

 Putball


END

 

IF


LB

(

j,

3

)

=

ny

+

1

:

GOTO

 Putball


Pos1:


LB

(

j,

1

)

=

0

:LB

(

j,

4

)

=

nx

+

dx:

GOTO

 Putball


Pos2:


LB

(

j,

2

)

=

LY

+

1

:

GOSUB

 Whichway


SW

(

wx,wy,

0

)

=

1

-

SW

(

wx,wy,

0

)




IF

 SW

(

wx,wy,

1

)

 

THEN




PUT

(

Column

(

LB

(

j,

4

)

+

1

-

sd

*

2

)

,Row

(

ny

+

(

LY

*

3

)

)

)

,Blank,

AND


LB

(

nb,

0

)

=

1

:LB

(

nb,

1

)

=

0

:LB

(

nb,

2

)

=

LY


LB

(

nb,

3

)

=

0

:LB

(

nb,

4

)

=

nx

+

1

-

sd

*

2

:nb

=

nb

+

1


SW

(

wx,wy,

1

)

=

0




END

 

IF


sx

=

Xpos

(

wx,wy

)

:sy

=

Ypos

(

wx,wy

)


wp

=

SW

(

wx,wy,

0

)




'Always fall thru TO Switch


Switch:


PUT

(

sx,sy

)

,Swblank,

AND




ON

 wp

+

1

 

GOTO

 

Left

,

Right




Left

:


PUT

(

sx,sy

)

,Lswitch,

OR

:

GOTO

 Bop


Right

:


PUT

(

sx,sy

)

,Rswitch,

OR


Bop:


SOUND

 

100

,

1

,

64

,Who


SOUND

 

250

,

1

,

64

,

3

-

Who


RETURN


Putball:


SOUND

 

INT

(

RND

(

1

)

*

10

)

*

(

30

*

LY

)

+

200

,

1

,

64

,Who


PUT

 

(

Column

(

nx

)

,Row

(

ny

+

(

LY

*

3

)

+

1

)

)

,Ball,

OR




RETURN


Whichway:


wx

=

LY:wy

=

INT

(

(

nx 

+

LY

-

4

)

/

2

)

:sd

=

(

nx

+

LY

)

 

AND

 

1

:

RETURN


Score:


sf

=

Points

(

Round,nx

+

1

)

:sg

=

SC

(

Who,Round

)

+

sf


tx

=

8

+

63

*

Who

+

(

sg

>

9

)

+

(

sg

>

99

)

+

(

sg

>

999

)


ty

=

2

+

Round:a$

=

MID

$

(

STR

$

(

sg

)

,

2

)




LOCATE

 ty,tx:

PRINT

 a$


SC

(

Who,Round

)

=

sg


FOR

 j

=

1600

 

TO

 

200

 

STEP

 

-

300




SOUND

 j,

1

,

64

,Who


SOUND

 j

+

400

,

1

,

64

,

3

-

Who


NEXT

:

RETURN


Values:


FOR

 j

=

0

 

TO

 

1


k

=

2

+

70

*

j:

LOCATE

 

15

,k


PRINT

 

SPACE

$

(

3

)

:

LOCATE

 

15

,k


PRINT

 

RIGHT

$

(

STR

$

(

Points

(

Round,

0

)

)

,

3

)




NEXT




FOR

 j

=

1

 

TO

 

16

:k

=

Points

(

Round,j

)


m

=

6

+

j

*

3.75




IF

 k

>

9

 

THEN


x

=

INT

(

k

/

10

)


x$

=

MID

$

(

STR

$

(

x

)

,

2

,

1

)




ELSE


x$

=

CHR

$

(

32

)




END

 

IF




LOCATE

 

22

,m:

PRINT

 x$;


LOCATE

 

23

,m:

PRINT

 

RIGHT

$

(

STR

$

(

k

)

,

1

)

;


NEXT

:

RETURN


Setup:


RANDOMIZE

 

TIMER




DIM

 Voice%

(

8

)




FOR

 j

=

0

 

TO

 

8




READ

 Voice%

(

j

)

:

NEXT




DATA

 

110

,

0

,

150

,

0

,

22200

,

64

,

10

,

1

,

0


Greet$

=

"Hi. Welcome to Switchbox."




PRINT

 Greet$


SAY TRANSLATE$

(

Greet$

)

,Voice%


SCREEN

 

2

,

640

,

200

,

2

,

2




PALETTE

 

0

, 

0

, 

0

, 

0




PALETTE

 

1

, 

1

, 

1

, 

1




PALETTE

 

2

, 

0

, .1, .7


PALETTE

 

3

, 

1

, 

1

, .13


WINDOW

 

2

,

"Switchbox"

,,

0




DIM

 Larrow

(

30

)

,Rarrow

(

30

)

,Wav%

(

255

)

,Lefthunk

(

400

)




DIM

 Righthunk

(

400

)

,Swblank

(

100

)

,Rswitch

(

200

)




DIM

 Lswitch

(

200

)

,Column

(

16

)

,Row

(

25

)




DIM

 Blank

(

70

)

,Ball

(

60

)

,Piece

(

80

)




DIM

 SW

(

8

,

8

,

1

)

,LB

(

32

,

4

)

,Points

(

4

,

16

)

,SC

(

1

,

8

)




FOR

 j

=

0

 

TO

 

10

:

LINE

 

(

0

,

5

)

-

(

10

,j

)

,

3




NEXT




LINE

 

(

10

,

3

)

-

(

20

,

7

)

,

3

,bf


GET

 

(

0

,

0

)

-

(

20

,

10

)

,Larrow


PUT

 

(

0

,

0

)

,Larrow


FOR

 j

=

0

 

TO

 

10




LINE

 

(

20

,

5

)

-

(

10

,j

)

,

3




NEXT




LINE

 

(

0

,

3

)

-

(

10

,

7

)

,

3

,bf


GET

 

(

0

,

0

)

-

(

20

,

10

)

,Rarrow


PUT

 

(

0

,

0

)

,Rarrow


GET

 

(

8

,

2

)

-

(

22

,

9

)

,Blank


CIRCLE

 

(

15

,

4

)

,

7

,

1




PAINT

 

(

16

,

4

)

,

1




GET

 

(

8

,

0

)

-

(

22

,

9

)

,Ball


PUT

 

(

8

,

0

)

,Ball


FOR

 j

=

0

 

TO

 

127

:Wav%

(

j

)

=-

127


Wav%

(

j

+

125

)

=

127

:

NEXT




FOR

 j

=

0

 

TO

 

3

:WAVE j,Wav%


NEXT




DATA

 

10

,

"round 1. equal scores."




DATA

 

2

,

2

,

2

,

2

,

2

,

2

,

2

,

2




DATA

 

40

,

"round2. fibonachie seequence."




DATA

 

1

,

2

,

3

,

5

,

8

,

13

,

21

,

34




DATA

 

20

,

"Round 3. arithmetic seequence."




DATA

 

2

,

3

,

4

,

5

,

6

,

7

,

8

,

9




DATA

 

80

,

"Round 4. seequence of squares."




DATA

 

1

,

4

,

9

,

16

,

35

,

36

,

49

,

64




FOR

 j

=

1

 

TO

 

4

:

READ

 Points

(

j,

0

)




READ

 Intro$

(

j

)




FOR

 k

=

1

 

TO

 

8

:

READ

 x


Points

(

j,k

+

8

)

=

x:Points

(

j,

9

-

k

)

=

x


NEXT

 k:

NEXT

 j


a

=

215

:b

=

2




FOR

 j

=

0

 

TO

 

4


a

=

a

-

30

:b

=

b

+

30




FOR

 k

=

0

 

TO

 j

+

3


Xpos

(

j,k

)

=

a

+

k

*

60


Ypos

(

j,k

)

=

b


NEXT

:

NEXT


k

=

0




FOR

 j

=

70

 

TO

 

520

 

STEP

 

30


Column

(

k

)

=

j


k

=

k

+

1

:

NEXT


k

=

0




FOR

 j

=

4

 

TO

 

154

 

STEP

 

10


Row

(

k

)

=

j:k

=

k

+

1

:

NEXT


Start:


SAY TRANSLATE$

(

"First player's name?"

)

,Voice%


INPUT

 

"Name of Player 1"

;p0$


SAY TRANSLATE$

(

"Second player's name?"

)

,Voice%


INPUT

 

"Name of Player 2"

;p1$


Who$

(

0

)

=

LEFT

$

(

p0$,

6

)

:Who$

(

1

)

=

LEFT

$

(

p1$,

6

)


text$

=

Who$

(

0

)

+

" plays "

+

Who$

(

1

)

+

". Is this correct"




PRINT

 text$;


SAY TRANSLATE$

(

text$

)

,Voice%


INPUT

 query$:an$

=

LEFT

$

(

query$,

1

)




IF

 

LEN

(

an$

)

=

0

 

OR

 an$

=

"y"

 

OR

 an$

=

"Y"

 

THEN

 

Draw




GOTO

 Start


Draw

:


SAY TRANSLATE$

(

"OK."

)

,Voice%


CLS




LOCATE

 

1

,

6

:

PRINT

 Who$

(

0

)




LOCATE

 

1

,

66

:

PRINT

 Who$

(

1

)


x

=

4

:

FOR

 j

=

0

 

TO

 

1

 

'score boxes




LINE

 

(

x,

12

)

-

(

x

+

110

,

60

)

,

2

,bf

'shadow




LINE

 

(

x

+

6

,

10

)

-

(

x

+

120

,

58

)

,

3

,bf

'outline




LINE

 

(

x

+

16

,

14

)

-

(

x

+

110

,

48

)

,

0

,bf

'inside


x

=

x

+

480

:

NEXT


x

=

1

:

FOR

 j

=

24

 

TO

 

50

 

STEP

 

3.7




LOCATE

 

2

,j:

PRINT

 x


x

=

x

+

1

:

NEXT




LINE

 

(

180

,

0

)

-

(

182

,

40

)

,,bf


GET

 

(

180

,

0

)

-

(

182

,

40

)

,Piece


LINE

 

(

180

,

0

)

-

(

420

,

0

)




FOR

 j

=

210

 

TO

 

420

 

STEP

 

60




LINE

 

(

j,

0

)

-

(

j

+

2

,

12

)

,,bf


PUT

 

(

j,

40

)

,Piece


PUT

 

(

j,

100

)

,Piece


NEXT




FOR

 j

=

180

 

TO

 

420

 

STEP

 

60




PUT

 

(

j,

0

)

,Piece,

OR




PUT

 

(

j,

70

)

,Piece


PUT

 

(

j,

126

)

,Piece


NEXT




PUT

 

(

120

,

126

)

,Piece


PUT

 

(

150

,

100

)

,Piece


PUT

 

(

460

,

100

)

,Piece


PUT

 

(

480

,

126

)

,Piece


ERASE

 Piece 

'reclaim memory




FOR

 j

=

30

 

TO

 

570

 

STEP

 

30




LINE

 

(

j,

155

)

-

(

j

+

2

,

170

)

,

1

,bf


NEXT




LINE

 

(

176

,

4

)

-

(

186

,

32

)

,

2

,bf


LINE

 

(

416

,

4

)

-

(

426

,

32

)

,

2

,bf


LINE

 

(

176

,

32

)

-

(

156

,

42

)

,

2




LINE

 

STEP

(

0

,

0

)

-

STEP

(

-

10

,

0

)

,

2




LINE

 

STEP

(

0

,

0

)

-

STEP

(

35

,

-

32

)

,

2




PAINT

 

(

175

,

31

)

,

2




LINE

 

(

426

,

32

)

-

(

446

,

42

)

,

2




LINE

 

STEP

(

0

,

0

)

-

STEP

(

10

,

0

)

,

2




LINE

 

STEP

(

0

,

0

)

-

STEP

(

-

36

,

-

32

)

,

2




PAINT

 

(

427

,

32

)

,

2




GET

 

(

136

,

12

)

-

(

186

,

69

)

,Lefthunk


GET

 

(

416

,

12

)

-

(

456

,

62

)

,Righthunk


l

=

106

:r

=

446

:k

=

42




FOR

 j

=

1

 

TO

 

4




PUT

 

(

l,k

)

,Lefthunk,

OR




PUT

 

(

r,k

)

,Righthunk,

OR


l

=

l

-

30

:r

=

r

+

30

:k

=

k

+

30




NEXT




ERASE

 Lefthunk,Righthunk


LINE

 

(

26

,

153

)

-

(

36

,

165

)

,

2

,bf


LINE

 

(

564

,

153

)

-

(

576

,

165

)

,

2

,bf


GET

 

(

245

,

32

)

-

(

299

,

40

)

,Swblank


FOR

 j

=

0

 

TO

 

18




LINE

 

(

270

+

j,

40

)

-

(

280

+

j,

32

)

,

3




NEXT




LINE

 

(

245

,

39

)

-

(

280

,

40

)

,

3

,bf


GET

 

(

245

,

32

)

-

(

298

,

40

)

,Rswitch


PUT

 

(

184

,

32

)

,Swblank,

AND




FOR

 j

=

0

 

TO

 

20




LINE

 

(

184

+

j,

32

)

-

(

193

+

j,

40

)

,

3




NEXT




LINE

 

(

193

,

39

)

-

(

236

,

40

)

,

3

,bf


GET

 

(

184

,

32

)

-

(

236

,

40

)

,Lswitch


FOR

 m

=

0

 

TO

 

4

:

FOR

 n

=

0

 

TO

 m

+

3


sx

=

Xpos

(

m,n

)

:sy

=

Ypos

(

m,n

)


wp

=

INT

(

RND

(

1

)

*

2

)


SW

(

m,n,

0

)

=

wp


SW

(

m,n,

1

)

=

0


Who

=

1

-

Who:

GOSUB

 Switch


NEXT

 n:

NEXT

 m


PUT

 

(

140

,

5

)

,Larrow


RETURN